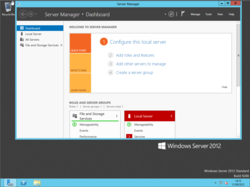 Veber's research has identified areas where Windows Server 2012 can be extremely beneficial for the UK SME market.
Watford, UK (PRWEB UK) 21 September 2012
As many other UK SME server operators, Veber has been keen to unpack Windows Server 2012 after its release at the start of September, eager to discover what Microsoft's first major update to its server OS since 2009 has to offer the UK SME sector. What is clear from the outset, not least through Microsoft's own marketing headline of "Built from the Cloud up", is that the new software capitalises on the worldwide industry trend towards cloud computing. Whilst the team at Veber have spent some time with it, Windows Server 2012 has yet to be put completely through its paces. With the coming weeks promising a plethora of UK hosting industry opinion, what is Veber's first impression of Microsoft's revolutionary foundation for the future of the server OS?
Veber Operations Manager, James Robinson, gives us the heads up: "Overall, Windows Server 2012 is a pretty good bit of kit. We can see how it is designed to meet the demands of the upsurge of devices the world is experiencing at the moment. The applications on those devices are all going to be using large amounts of data and impressive features. Our testing indicates that Windows Server 2012 does provide the OS the datacentres need to power the servers at the base of the pyramid."
Tim Poultney, Veber CEO, adds: "We were interested in Microsoft's claim that a priority for the development of Windows Server 2012 was an improvement in how well the software scales for internet hosting. We need to know that the backbone of a consistent platform and richer feature set are going to deliver the support for data we and our customers need. Thus far, we have been impressed with the relative simplicity and the ease of install and maintenance."
Veber's research has identified areas where Windows Server 2012 can be extremely beneficial for the UK SME market. Modular build ensures the system is fast and secure by only installing the modules which a user actually needs. Full server virtualisation provides increased scalability and performance from Windows 2008 server. Data de-duplification enables you to efficiently store, transfer and back up less data whilst virtual desktop environments provide easier storage and less man hours spent on storage issues. Moreover, many high availability options can now be enabled to offer redundancy from single server solutions.
Veber are prepared and ready to go on the Windows Server 2012 front. The software promises a cost-effective foundation ready to deploy anything from small email servers or multiple test and development environments through to large scale high-compute requirements without the need for expensive software re-engineering or new platform migration. You can get in touch with Tim or James at Veber to start your Windows 2012 Server experience.
Veber
Unit 13 Shakespeare Industrial Estate
Watford
Hertfordshire,
WD24 5RR
UK
http://www.veber.co.uk
Phone 020 3468 7000
In the first instance contact -
CEO: Tim Poultney timp (at) veber (dot) co (dot) uk
Operations Manager: James Robinson jamesr (at) veber (dot) co (dot) uk