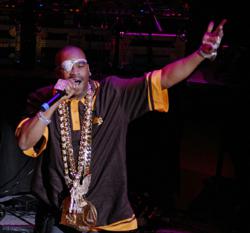 "We are anticipating three days and two nights accommodating professionals who want to let their hair down, but at the same time have the option to network with other professionals."~Dave Bishop
Atlanta, Georgia (PRWEB) March 11, 2013
They say what happens in Vegas stays in Vegas. However, word has been getting out of that Urban Hangover is the ultimate annual upscale getaway designed for cosmopolitan professionals who have no qualms about mixing business with pleasure or business cards with bikinis.
This year's event, dubbed Urban Hangover II will be held on July 26th though 28th, 2013 at the Planet Hollywood and will see a slew of nationally recognized promoters, celebrities and professional athletes in attendance.
One of the highlights of this for 2013 will undoubtedly be the appearances and performance of Slick Rick. The rapper known for his breakout hit Children Story will be playing celebrity host and performer to the main concert. He is the first celebrity host to be revealed for the event.
"We are anticipating three days and two nights accommodating professionals who want to let their hair down, but at the same time have the option to network with other professionals," said Dave Bishop of Reignfall Media, one of the organizers of the event. "For instance, we have the continental network business card exchange affair, several meet and greets, an all white Summer soirée event, a pool party, a comedy show, golfing, and the option of going to several of Las Vegas' premiere adult hangouts, famous Vegas style shows, and several receptions." "Urban Hanover is here to reassure that what happens in Vegas never happen."
Attendees can also expect to receive the exclusive Urban Hangover gift bags,which consists of several goodies from some of the sponsors event.
For more information, visit http://www.vegasurbanhangover.com or Sponsorship email: davebishop(at)reignfallmedia(dot)com 404.954.2259
Reignfall Media Group is a Atlanta-based Event Production company known for its well-regarded corporate branding events, major outdoor festivals, and promotional entertainment affairs featuring celebrity entertainment.