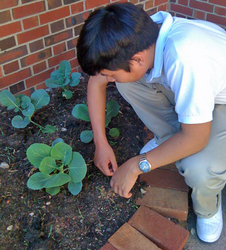 We like Rabun Gap's commitment to sustainable practices, organic gardening, and experiential education.
Rabun Gap, GA (PRWEB) October 13, 2010
Rabun Gap-Nacoochee School students will help conduct research on all-natural fertilizer and related vegetable gardening products in conjunction with industry executives in a pilot program beginning this fall.
The school, a private boarding and day school for grades 6-12, is one of three in the nation selected to work with Dr. JimZ Secret Formula all-natural fertilizers and related gardening products.
"A mutual friend recommended Rabun Gap-Nacoochee School because of its strong commitment to sustainable practices, organic gardening and experiential education," said Jos Zamzow, vice president of TerraLife, Inc., which distributes the Dr. JimZ line of natural fertilizers and related products.
"Even though we are more than 2,000 miles away in Idaho, we have heard of the innovative work of science department head Woody Malot in teaching students about sustainable vegetable gardening and sustainable living. The school not only has its own greenhouse for vegetable gardening and other purposes, but also has its own composting and alternative energy projects," Zamzow added.
Dr. JimZ, based in Nampa, Idaho, has been making all-natural fertilizers and animal feed for four generations.
Dr. JimZ first began working with schools two years ago when it offered fertilizers and related gardening products to the Hagerman High School greenhouse in Hagerman, Idaho. The company asked students to keep records and share results both with the company and with their families and friends on an Internet blog.
"We always hear about NASCAR drivers or athletes who have sponsors," Zamzow said. "We see companies sponsoring football scoreboards at high schools. But I had never heard of anybody sponsoring a gardener who grows prize vegetables or sponsoring a class."
"Hagerman High is in a small rural community of around 650 people, and has an outstanding agriculture teacher who already had formed an alliance with the University of Idaho's fish research programs. We are so pleased with the results at Hagerman that we are expanding the program."
"Students always learn more from hands-on experiments than from books," said Daniel Knapp, Hagerman agricultural teacher. "With the cutbacks in school funding these days, we need ways to support our agriculture and aquaculture classes. The products provide good lessons on the latest technology, and the increase in vegetable gardening yield from the Dr. JimZ Secret Formula fertilizer and other products helps our profits from the greenhouse as well."
Under the direction of Malot, the Rabun Gap students will conduct a series of experiments comparing plant growth rates using a variety of commercial/industrial fertilizers and Dr. Jimz natural fertilizer. One student will implement a comparison study and measure nutrient uptake as part of her science symposium project.
In addition to the relevant and applied learning experience offered to the students, both Hagerman and Rabun Gap faculty members as well as those from a third school, Castleford High School in Idaho, are excited to work on a project that combines the efforts of diverse populations of students. Though each school is located in a rural community, all three schools serve diverse populations. In fact, by incorporating Rabun Gap, this effort includes students from 17 states and 15 countries.
"The schools and their communities share a common interest in gardening and sustainable practices," Zamzow said. "We anticipate that the students' lives will become richer from working on a common project with people from very different backgrounds."
The Dr. JimZ program currently has openings for several more public or private schools this year. Interested teachers should contact Jo Murray, Dr. JimZ school program coordinator, at 208-726-5869 or jo@jomurray.com.
Donated products include Save-a-Tree fertilizer, Dr. JimZ's flagship product, an all-natural fertilizer that is good for trees, vegetables, flowers and shrubs; Plant Wash, which spurs photosynthesis and plant growth by keeping leaves clean; and Bloom Kaboom!, which increases the blooms on flowering plants. Once classes achieve a following on a blog or a social media site such as Facebook, they will receive CCF, or concentrated compost factor, which includes the recently discovered ingredient that triggers plants growth.
You can follow the students on Facebook at Hagerman Greenhouse or h ttp://http://www.facebook.com/profile.php?id=100000726919049&ref=ts. The Rabun Gap Facebook page is at http://www.facebook.com/pages/Organic-vs-Inorganic-Fertilizer-Project/165291210154864?v=wall.
Additional information is available about Dr. JimZ at drjimz.com, and additional information about the Rabun Gap-Nacoochee School is available at rabungap.org.
Keyword tags: vegetable garden, vegetable gardening, organic vegetable gardening, tree fertilizer, organic gardening, natural gardening
###