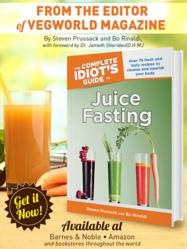 The most comprehensive source for juice fasting ever published.
Los Angeles, CA (PRWEB) November 13, 2012
More and more people are discovering the most natural and healthy way to lose weight is through juice fasting. Celebrities have known the delicious benefits of juice fasting for years; and many have hired doctors, experts and coaches to guide them to success. The prescription to a successful juice fast, however, has been harder for the average person to find.
"There were no books out there to teach people how to successfully complete a juice fast from start to finish," explains co-author, Steven Prussack. "This book fills that important gap and makes radiant health, weight loss, and a youthful glow accessible to everyone."
The most comprehensive guide ever published, "The Complete Idiot's Guide® to Juice Fasting" eases readers through a number of different fasts and helps them choose the right fast to lose the pounds, cleanse their systems and be on their way to feeling healthier. Readers will find over 75 different, delicious juice recipes that will satisfy taste buds and help meet health goals. The book also includes:

Nutritional information
Culinary guidance
Tips to cleanse safely and successfully
How to choose a juicer and other kitchen equipment
Real life stories of transformation through juicing
Healthy recipes to incorporate before and after a juice fast.
About the Authors
Steven Prussack is an author, radio host, and CEO/ Editor-in-Chief of VegWorld Magazine (vegworldmag.com).
Steve created a hugely successful magazine, VegWorld Magazine which is featured as "What's Hot" and a top grossing digital download in Apple's Newsstand.
Steve also hosts an award-winning radio show "Raw Vegan Radio" (rawveganradio.com) and produces programs with visionary leaders such as Dr. Will Tuttle (worldpeacemastery.com) on how to spread the message of compassion, harmony, and vegan living. Steve founded and co-produced the world's largest online vegetarian summits, Veganpalooza: 2012 Vegetarian World Summit (veganpalooza.com) and Rawpalooza: 2012 Raw Food World Summit (rawpalooza.com).
Additionally, Steve produced the "Jay Kordich's School of Juicing" with Jay and Linda Kordich in January, 2012. School of Juicing is an online coaching and mentoring program, teaching the fundamentals and health benefits of juicing (schoolofjuicing.com).
Bo Rinaldi (Lake Oswego, Ore.) is an entrepreneur, chef, and co-owner of the acclaimed Blossoming Lotus restaurant in Portland. A proponent of the fantastic benefits of the vegan lifestyle, he is co-owner of VeganFusion.com, CookingHealthyLessons.com, blogs frequently at http://www.BoRinaldi.com, and is the author of The Complete Idiot's Guide® to Low-Fat Vegan Cooking, The Complete Idiot's Guide® to Green Smoothies and co-author of The Complete Idiot's Guide® to Eating Raw. Rinaldi has been a vegan since 1960 and has managed, partnered, or owned many companies in the organic movement.
The Complete Idiot's Guide® to Juice Fasting
ISBN: 9781615642250, November 2012, $14.95
Authors: Steven Prussack (Culver City, Calif.) and Bo Rinaldi (Lake Oswego, Ore.)
About The Complete Idiot's Guide® Series
The Complete Idiot's Guide® series is published by Alpha Books, an imprint of DK Publishing. For more than 16 years Complete Idiot's Guide® books have informed, entertained, and enriched tens of millions of readers worldwide. Our readers are savvy and smart, but like most people, they sometimes encounter tasks or topics that make them feel like … well, complete idiots. Complete Idiot's Guide® authors understand that feeling and know how to take the sting out of a steep learning curve. They offer simple steps, clear information, inside tips, and an occasional dollop of humor. There are more than 450 titles available in print and/or electronically, with new subjects and new ways to learn coming all the time. The Complete Idiot's Guide® brand ensures consistent quality, reliability, and results.
About Alpha Books
Alpha Books, a member of DK Publishing, publishes high-quality lifestyle and reference books in 30 different categories. The Complete Idiot's Guides®, Humongous Book math series, The Essential Guides, Living Free Guides - as well as other series and stand-alone titles - provide helpful how-to information and general knowledge in an easily accessible manner.
# # #
For a review copy or to arrange an interview with the authors, please contact Wilks Communications at bre@wilkspr.com, or 708-434-5006.