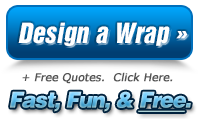 With this new feature, wrap shop owners can finally let people design vehicle wraps on their own websites. This level of interactivity used to be unaffordable, and now we're excited to say it's cheaper than most banner ad campaigns.
San Diego, CA (PRWEB) March 26, 2013
A new feature has recently been launched that allows Custom Car Wrap (CCW) affiliates (wrap shops) to copy and paste a simple code snippet from their CCW Affiliate Dashboard to their own website that will pop open the "Design Your Own Wrap" customizer directly on their own website. Their website visitors can then design vehicle wrap mockups in minutes and send them through for quotes without ever leaving the wrap shop's website.
Custom Car Wraps offers wrap shop affiliates a new Customizer-Pro account, which adds the vehicle wrap application to the wrap shop website. Click the "Design a Wrap" button on this page to see it in action.
This marks a huge, new opportunity for vehicle wrap shops around the globe to add an amazing feature to their own websites. This feature has been proven to drive engagement, improve communication of design ideas, and overall convert more web traffic into potential customers. Bottom line for wrap shops is that this is a secret weapon to monetize their own web traffic with an interactive, engaging user experience.
Up until about a week ago, this simple method was not possible, and was priced around $10,000 to $20,000 up front to integrate this full enterprise level application into a new website. With Custom Car Wrap's latest platform release, it is being offered as a simple copy-paste code feature for only $199/month.
This technology has already been very disruptive in the vehicle wraps industry with customers walking into wrap shops having already sent their design mockup through! The technology works so well, in fact, that it's generating leads and new customers for some shops that don't even realize it's out there working for them on the Custom Car Wraps site.