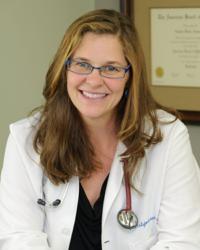 Every year, approximately two million Americans suffer from the effects of blood clots in the deep vein system.
South Portland, ME (PRWEB) March 07, 2013
Every year, approximately two million Americans suffer from the effects of blood clots in the deep vein system. According to vein specialist Dr. Cindy Asbjornsen of the Vein Healthcare Center, deep vein thrombosis (DVT), is a blood clot in the deep vein system.
The danger of DVT is that the clot could break free from the vein wall and enter into the blood stream. The clot could then travel to the lungs and become a pulmonary embolism (PE), or to the brain and result in a stroke. DVT-related PE, often referred to as venous thrombo-embolism (VTE), is the leading cause of preventable death in U.S. hospitals.
"Studies show that in the United States and the United Kingdom, VTEs kill more people than AIDS, breast cancer, prostate cancer and traffic accidents combined," said Dr. Asbjornsen. "Everyone should learn about DVT, find out their level of risk, and take the proper steps to prevent this."
Anyone at any age can get DVT, but certain groups are at greater risk, such as:

Those with prolonged immobility or no mobility
People with blood-clotting issues because of a genetic disorder, or cancer patients undergoing surgical procedures
Patients with damage to their vein walls because of surgery or injury
Pregnant women
Seniors, 60 and older
This is, by no means, a complete list, and it's important to remember that risk factors can be compounded. For example, combining an existing blood clot disorder with immobility can dramatically raise the risk of DVT.
In most cases, symptoms will appear at the affected area— usually in the leg, which will be painful, swollen or tender, with a redness or discoloration of the skin. DVT is a medical emergency, so any of these symptoms should be regarded as a DVT until proven otherwise, especially if someone is in a risk category. Sometimes DVT has no symptoms at all.
Because DVT can occur with little or no warning, the best action to take is prevention. The Centers for Disease Control and Prevention recommends these tips:

Understand your level of risk, and talk to your doctor about DVT, especially if you're in a high-risk group.
Consider wearing graduated compression stockings.
Maintain a healthy weight, eat a healthy diet and don't smoke.
Move around as soon as possible after surgery, illness or injury.
When traveling or sitting for more than four hours, get up and walk around every few hours and exercise legs while sitting.
To learn more about how to identify, prevent and treat DVT and other venous disorders, visit http://www.veinhealthcare.com.
Dr. Cindy Asbjornsen is the founder of the Vein Healthcare Center, as well as the Maine Phlebology Association. Certified by the American Board of Phlebology, she cares for all levels of venous disease, including spider veins, varicose veins and venous ulcers. Dr. Asbjornsen is the only vein specialist in Maine to be named a Fellow by the American College of Phlebology. She is also the editorial director of Vein Health News, Maine's vein magazine for primary care physicians.