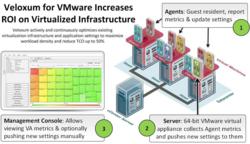 Veloxum provides a perfect complement to Blue Channel Solution's strength in solving our client's greatest business challenges with global solution providers who can offer game-changing solutions for our customers' networks and IT infrastructure
Scotts Valley, Calif. (Vocus/PRWEB) January 20, 2011
Veloxum™ Corporation, a performance management company, today announced the expansion of its global reseller program with the addition of leading enterprise reseller, Blue Channel Solutions. The signing of Blue Channel Solutions will increase distribution of Veloxum's optimization solutions, such as Veloxum for VMware, in the North American market.
Veloxum selected Blue Channel Solutions to resell its Active Continuous Optimization (ACO)-based Veloxum for VMware enterprise optimization solution based on Blue Channel Solution's North American market presence, industry knowledge and depth of technical expertise to successfully implement Veloxum for VMware in virtualized environments.
Veloxum's ACO solution helps VMware users automatically optimize VMware platforms and increase performance and density up to 50%. Veloxum's ACO offering enables VMware users to analyze and optimize all elements of their platform including the server capacity, networking, physical storage and interaction with clients.
"Blue Channel Solutions' track-record, contacts with IT organizations, and strategic approach to solving customers' IT issues was a major reason that we selected them to be part of our program," said Kevin Cornell, Chief Executive Officer of Veloxum. "Our partnership will enable both companies to provide VMware users with significantly increased efficiency and TCO, greater east coast support and reduced time-to-market to successfully implement our ACO optimization solution."
"Veloxum provides a perfect complement to Blue Channel Solution's strength in solving our client's greatest business challenges with global solution providers who can offer game-changing solutions for our customers' networks and IT infrastructure," said Brandon Vaughan, Vice President of Marketing Communications, Blue Channel Solutions. "Veloxum's approach to virtualization optimization is both powerful and unique, and has the potential to deliver dramatic improvements in efficiency and significant cost savings to our customers. We believe Veloxum offers a solution that has all the factors that our partners and customers require – quick deployment, guaranteed performance improvements and a fast return on investment."
Active Continuous Optimization (ACO) sets Veloxum apart from other server and application monitoring-only tools
Many organizations have invested heavily in virtualization projects in order to achieve the cost savings presented to them as part of an ROI model. But without continuous tuning of server platforms to the applications they are running, it is difficult to achieve these results. Veloxum actively and continuously tunes server settings to deliver optimum performance and virtual-to-physical densities.
Veloxum's ACO uses patent-pending algorithms to calculate the optimum server configuration settings that improve all aspects of performance. Veloxum then implements and logs these new optimal configurations, and acts as a continuous 'tune-up' service to configure elements automatically without requiring any user intervention or specialist skills.
What this means for the customer is that they can increase guest to host density, running a greater number of VMware instances without increasing physical server capacity. This leads to dramatic cost savings in terms of deferred capital expenditure on new hardware and reduced Total Cost of Ownership (TCO) in the areas of support, maintenance, powering and cooling requirements. Veloxum customers typically see a Return on Investment period of less than 6 months.
Veloxum supports most enterprise platforms, including Linux, AIX, SUN and Windows OS with supplied OS modules, and optimizes popular applications such as Exchange, SharePoint, SQLserver, Lotus Notes and Oracle.
Availability, Pricing and Promotion:
Veloxum for VMWare is available from Veloxum and its authorized resellers. For a free evaluation download and more information on Veloxum for VMware, including feature, function and pricing information, please visit: http://www.veloxum.com.
About Blue Channel Solutions
Blue Channel Solutions (http://www.ImproveVMware.com) is comprised of former IBM professionals and is uniquely positioned to help clients improve data center performance by leveraging their portfolio of "Best of Breed" technologies. For Veloxum, Blue Channel Solutions adds to a growing list of IT infrastructure, network and application optimization vendor partners that help it serve both the US and the UK markets.
About Veloxum
Veloxum's founders started the company with the vision to apply active, continuous optimization to manage complex IT environments for optimum performance and utilization. Veloxum actively and continuously optimizes physical and virtual infrastructure by optimizing operating system and application settings. It leverages the existing systems and infrastructure by tuning the various components within their manufacturer-supported settings. The solution enables IT organizations to maximize performance, increase workload density, and minimize virtualization costs, dramatically reducing CAPEX and OPEX spending.
Customers such as Adecco, Baron Funds, Beeline, CGB Group, Deutsche Bank, the United States Department of Energy, Fortress, and ISI Financial, Maimonides, PPC, and The Washington Post are enjoying significant cost savings with Veloxum. Veloxum http://www.veloxum.com, headquartered in Scotts Valley, California, was founded in September, 2007.
Veloxum, IPTE and ACO are registered trademarks and/or trademarks of Veloxum Corporation in the United States and/or other jurisdictions. All other marks and names mentioned herein may be trademarks of their respective companies.
Media Contact
Jeff Lettes
Global Media Strategy on behalf of Veloxum
jlettes(at)globalmediastrategy(dot)com
twitter: @svnewscomm
# # #