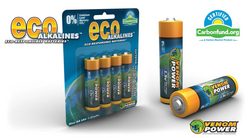 Today's consumers are more aware of the global warming and environmental impact of the products they use every day. Consumers are choosing Earth-friendly, sustainable products or those that reduce environmental impact over traditional alternatives
Rathdrum, ID (PRWEB) October 13, 2009
Venom Power Eco Alkaline™ batteries feature 0% Mercury, 0% Cadmium, 0% Lead and are certified carbon neutral by Carbonfund.org. Venom's Eco Alkaline batteries are progressive, high quality consumer batteries with performance rivaling national leading alkaline battery brands.
"Today's consumers are more aware of the global warming and environmental impact of the products they use every day. Consumers are choosing Earth-friendly, sustainable products or those that reduce environmental impact over traditional alternatives," says Clint Bower, President, Venom Group International.
Working with Carbonfund.org, which has the first carbon neutral product label in the U.S., Venom Power Eco Alkaline batteries are certified carbon neutral after a detailed product life-cycle assessment of carbon emissions, and offsetting the emissions that could not be avoided, for example, in the manufacturing process.
Venom is supporting Carbonfund.org and Paso Pacifico's Return to Forest reforestation project. Validated by the Rainforest Alliance to the Climate, Community and Biodiversity Standards with Gold Distinction, the Return to Forest Project is helping to reforest as well as reconnect critical biological corridors along Nicaragua's Pacific coast. The project also brings economic opportunities to local communities while sequestering about 170,000 metric tons of carbon dioxide from the atmosphere.
"We applaud Venom Power for having its Eco Alkaline brand batteries certified as a carbon neutral product after a rigorous product life-cycle assessment. The brand now carries Carbonfund.org's carbon neutral label and joins other distinguished brands that are taking leadership on climate change," said Eric Carlson, President, Carbonfund.org. "Venom's Eco Alkaline batteries provide an important and dependable alternative for consumers in the battery market."
Venom's Eco Alkaline batteries will begin shipping to retailers throughout North America during the fourth quarter this year. Eco Alkaline batteries are recyclable along with other dry-cell batteries.
About Venom Group International:
Venom Group International specializes in the design and manufacture of various consumer batteries, battery chargers, battery powered radio controlled toys and electronics. With offices in the U.S.A., Australia and China, Venom batteries, toys and associated products are sold throughout the U.S.A., Australia and more than 40 countries worldwide. http://www.venom-group.com
About Carbonfund.org:
Carbonfund.org is the leading nonprofit carbon offset and climate solutions organization, making it easy and affordable for individuals, businesses and organizations to reduce and offset their climate impact. Carbon offsets enable individuals and businesses to reduce carbon dioxide emissions they are responsible for in their everyday lives by supporting third-party validated renewable energy, energy efficiency and reforestation projects. Carbonfund.org has over 450,000 supporters and 1,200 business and organizational partners. Please visit http://www.carbonfund.org; to learn more about product certification, visit http://www.carbonfund.org/products.
Venom products can be found throughout the U.S. and over 40 countries worldwide.
For more information, visit Venom online at: http://www.venom-group.com
For more information contact Venom directly at 800-705-0620 or email us.
###