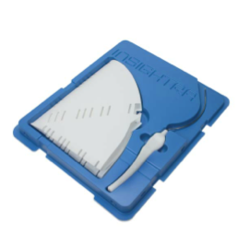 "This is a very encouraging device and technique," Says Sergio Roll, MD, PhD, São Paulo, Brazil. "It shows great promise in simplifying the sublay repair of ventral hernias."
Irvine, CA (PRWEB) June 14, 2012
Ventral hernia is a common problem, especially after surgery, where the abdominal contents protrude through the abdominal wall. Currently there are a number of ways the hernia is repaired by both open and laparoscopic surgery. But all of these procedures have the same common problems. Firstly, it is difficult to get a full overlap of the mesh implant that repairs the defect – meaning there is a risk of the hernia coming back. Second, the mesh must be fixed in place with either time consuming sutures or small tacks, both of which have been shown to cause a degree of complications.
Today Insightra Medical Inc announced the CE mark of a new kind of hernia repair kit which is aimed at giving a broad implant overlap, and eliminating the need for fixation with either sutures or tacks.
The system is based around a revolutionary new implant called – Octomesh™ - a polypropylene mesh body with eight integral arms or straps. By using the kit's proprietary new strap passing device, each arm is pulled through the muscles of the abdominal wall to hold it in place. This pass eliminates the complex placement of sutures or tacks. Studies performed between Palermo & Offenbach in Germany showed a reduction in operative time compared to their current techniques.
The strap passer technique ensured that the mesh could be placed in an open sublay technique with a very large overlap beyond the borders of the hernia defect.
There are several ongoing clinical studies of the device, and some early patients are coming up to four years of follow up. The results of which will be published soon.
"This is a very encouraging device and technique," says Sergio Roll, MD, PhD, São Paulo, Brazil. "It shows great promise in simplifying the sublay repair of ventral hernias."
The new implant comes packed with the special strap passer as a single convenient kit and is available immediately across Europe in five sizes.