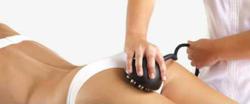 Venus Freeze is designed to "freeze" the aging process through heat. Patients compare the treatment to a hot-stone massage.
Dallas, TX (PRWEB) February 28, 2013
Board certified physician Dennis Eisenberg, MD is pleased to announce the addition of Venus Freeze™ technology to the menu of aesthetic treatments offered at Berdion Med Spa, Dallas TX. Venus Freeze is the latest FDA cleared technology and is a non-invasive alternative to Liposuction for Cellulite Reduction and Skin Tightening for the Face, Neck and Body.
Venus Freeze treatments use multi-polar radio frequency to cause a thermal reaction in the tissue that stimulates the body's natural healing response. That restoring response causes new collagen to form, and the production of new elastin fibres. The active collagen in the skin contracts, causing skin to look and feel firmer and the elastin fibers unravel making the skin appear more elastic. This non-invasive procedure results in skin tightening, wrinkle reduction and cellulite reduction.
"Our patients love the results," says Dr. Eisenberg. "Our goal is to provide the best technologies available at a Dallas Med Spa for anti-aging and non-invasive aesthetic treatments."
Patients require between 6 to 8 treatments for the face and neck and between 8 and 15 treatments for the body. They last anywhere from 10 minutes for a neck lift to 40 minutes for the body. Patients find the costs for the treatments very reasonable considering the results with no surgery.
Venus Freeze is designed to "freeze" the aging process through heat. "The name can be misleading because many patients actually compare the treatment to a hot-stone massage." says Dr. Eisenberg. "We are very excited to bring this technology to a Dallas Med Spa. It is a great compliment to our other treatment offerings like PhotoFacials and Laser Skin Resurfacing."
About Berdion Med Spa
Created by Dennis Eisenberg, MD, a board-certified physician dedicated to women's health. This North Dallas med spa is committed to the highest standards of training and medical care and delivers the best possible results for cosmetic treatments. They strive to bring the best aesthetic technologies to Dallas TX, such as Sciton JOULE for laser skin resurfacing and Venus Freeze for skin tightening of the face and non-invasive alternative to liposuction for cellulite reduction.