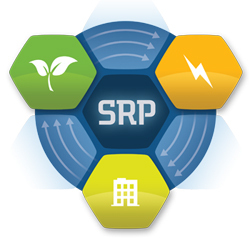 With our deep experience in sustainability, we are focused on providing end-to-end solutions to every organization that sees the value of creating sustainable business models
Minneapolis, MN (Vocus) January 21, 2010
Verisae, the global leader in Sustainability Resource Planning ("SRP") software, announced today that Rapid Consulting Services has joined the company's expanding partner program. Rapid, based in Irvine, California, specializes in helping customers with corporate sustainability and carbon accounting initiatives.
Started in 2007 by a group of former SAP employees, Rapid has experienced strong growth implementing energy, environmental, and carbon management software solutions for organizations seeking one technology platform to support their emissions management journey. Rapid has a number of customers across the United Kingdom, India, and the United States.
"With our deep experience in sustainability, we are focused on providing end-to-end solutions to every organization that sees the value of creating sustainable business models", stated Rajeev Kumar, Rapid Co-Founder.
"We are very pleased to have Rapid join Verisae's partner program. The team at Rapid understands the sustainability space. They have been providing value to their international clients since their founding," said Jerry Dolinsky, Verisae's Executive Vice President of Global Field Operations. "Rapid's team is experienced with implementing transformational solutions in large organizations. They will quickly deliver value."
In January 2010, Rapid joined the Sustainable Business Leadership Council (SBLC), a green business association focused on business education in Southern California. The SBLC seeks to advance sustainable business practices in America through networking, education, and certification.
"Since the beginning, Rapid has been focused on helping our customers bring sustainability to the forefront of their business operations. Verisae's solutions are an exceptionally good fit for our customers," noted Anton Ansalmar, Founder and CEO of Rapid Consulting Services. "We have looked at a variety of solutions in the enterprise sustainability software space. Without a doubt, Verisae has the most advanced, sophisticated, and complete offerings in the market. We are excited to be offering these proven solutions to our joint customers."
About Verisae, Inc.
Verisae (http://www.verisae.com/pr) helps measure, manage and monetize energy costs and carbon emissions. Their proven Sustainability Resource Planning ("SRP") platform improves operational efficiency, makes sustainability initiatives actionable, and reduces energy costs and emissions for distributed enterprises. They deliver a broad range of sustainability solutions to over 40 global clients with a service network of over 7,500 third-party consultants consisting of 60,000 application users. Their integrated sustainability platform actively tracks over 2.1 million assets across 23,000 sites.
###