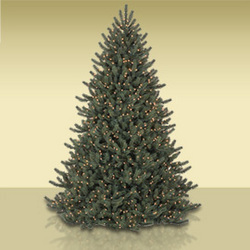 The Vermont White Spruce is our best selling artificial Christmas tree because people love its color, sturdy branches and upswept look
Redwood City, CA (PRWEB) December 3, 2008
Artificial Christmas tree retailer Balsam Hill is known for their realistic trees. With TrueNeedle™ technology that features injection-molded PE plastic and several different colors of pigment, their artificial Christmas trees mimic the structure, texture and color of natural evergreen needles.
This year, their best selling artificial Christmas tree, the Vermont White Spruce, will be available in new sizes, including 5.5 foot and 15 foot options. The additions round out the popular line, giving customers more flexibility when it comes to their home décor.
"The Vermont White Spruce is our best selling artificial Christmas tree because people love its color, sturdy branches and upswept look," commented CEO Thomas Harman. "We think adding the small and large sizes will only increase its popularity this year."
The 5.5 foot Vermont White Spruce tree is available with pre-lit clear or Color+Clear® lights, while the larger 15 foot tree comes unlit or with clear lights. Customers can also complete the look by purchasing matching wreaths and garlands.
Artificial Christmas tree sales showed a 10% growth year over year in the past five years, according to the National Christmas Tree Association, with U.S. consumers purchasing 9.2 million artificial Christmas trees in that time.Balsam Hill hopes demand continues to soar as consumers look to reusable artificial Christmas trees as the best way to save time and money.
To learn more about Balsam Hill's best selling Christmas tree, the Vermont White Spruce, please visit http://www.balsamhill.com.
About Balsam Hill:
Balsam Hill's mission is to create the best artificial Christmas trees, Christmas wreaths and Christmas garlands ever produced. With over 20 different styles of pre-lit Christmas trees, pre-lit Christmas wreaths, and pre-lit Christmas garlands, Balsam Hill strives to offer a high quality product to satisfy any holiday style. To get tips on how to make your home look its best this year with Balsam Hill Christmas decor, please visit http://www.balsamhill.com.
###