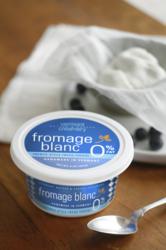 Artisan Cheeses from Farm to Table
Websterville, VT (Vocus/PRWEB) February 02, 2011
Vermont Butter & Cheese Creamery's fat-free Fromage Blanc is a French-style fresh cheese that is the French answer to American yogurt. It is thick and tangy and a versatile addition to anyone's healthy eating resolutions. Fromage Blanc, also known as Fromage Frais belongs to a family of European-style cows' milk cheeses made with different textures and butterfat amounts to perform different roles in the kitchen. At Vermont Butter & Cheese Creamery, these distinctive fresh cheeses share a link with company co-founder Allison Hooper's apprenticeship on a dairy farm in Brittany, France. The fromage blanc Allison remembered enjoying on the farm for dessert — mixed with a bit of sugar — inspired Vermont Fromage Blanc, which she and company co-founder Bob Reese introduced to the U.S. market in 1985. A great source of fat-free protein; it is a delicious complement to many dishes.
Today it is gaining popularity as consumers are looking for a healthy and local alternative to sweetened yogurt. A great source of fat-free protein; it is a delicious complement to many dishes. And it keeps the New Year's resolution on track. The fat-free Fromage Blanc from Vermont Butter & Cheese can be used to make the French "Tarte aux Fraises", a delicious guilt free treat. http://www.vermontcreamery.com/fromage-blanc
In their twenty-seventh year of business, Vermont Butter and Cheese Creamery is a leading American creamery crafting innovative, all-natural fresh and aged goat cheeses, crème fraiche, mascarpone, and European-style cultured butter. The creamery supports a network of more than 20 goat dairy farms, providing milk that meets the highest standards of purity, and is a proud contributor to the health of local agriculture.
# # #