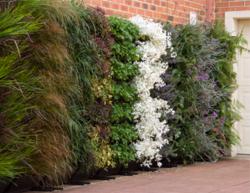 (PRWEB) November 13, 2012
A new living wall kit that places edible, vertical gardens in the hands of any level gardener announces VerticalGardeningSystems.com the Internet's leading vertical gardening resource. Home gardeners across the United States are transforming bare walls, fences and buildings into lush botanical displays, showcasing a wide range of plants, from flowers and foliage to herbs and vegetables.
This new direction in living walls was previously limited to large-scale commercial projects featured at luxury hotels, restaurants and office buildings.
Although it's often difficult to detect how the systems are put together through dense screens of plants, a new vertical gardening system, WallGarden, is behind the trend of building inexpensive living walls on the home front. There's no complicated apparatus here
This is the perfect solution for the household gardener looking for maximum output in a small space, and a winning design with foolproof irrigation capability, WallGarden is the ticket. It's suitable for hydroponic, or aquaponic, applications too. It's easy to install, easy to fertilize and irrigate, yields a maximum bounty, looks terrific and costs very little.
This solves the problem in areas of high density, where gardening space is at a minimum, but desire for garden to table produce is a sought after goal. The WallGarden can be affixed to walls, garages, fences, restaurants, schools, offices, greenhouses, or put on an upright structure with wheels, and made to be mobile.
There are a few aspects to building an vertical garden of any kind that have to be correct in order for it to thrive. If one or more is off kilter, gardeners won't get the desired effect being sought. This is why choosing the right structure upon which to grow the garden is a large part of the equation. Below are the six key features of the WallGarden that will ensure a lush and healthy visual display:
1. It's easy to install and will stay secure.
2. Irrigation is easy and drainage is free flowing.
3. Depth of soil is sufficient for growing plants with larger rootballs.
4. The modules are slightly slanted to ensure maximum sun exposure yet keep the soil from falling out.
5. Fertilization can be done through the irrigation system and the larger area for soil allows for a less frequent need to fertilize.
6. The modules can be arranged in many ways and plants can be replaced or swapped out without have to disassemble a big section of the whole unit.
These recent design developments have overcome a number of limitations in competing vertical garden designs, so extended ranges of plant varieties are suited to Wallgarden systems. Decorative plants and annuals are not the only flora that will thrive, herbs, veggies and berries, do well too.
WallGarden is available for about 25 per cent of the price, of alternative vertical gardening systems; $80.00 buys about a square yard of vertical garden. Components for installing and irrigating WallGardens are conveniently available in hardware stores.
While there is no such thing as maintenance free garden, when gardeners start with the right growing system, an edible, vertical garden can be a snap. The WallGarden can found online at http://www.verticalgardeningsystems.com