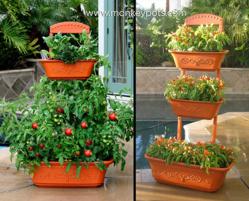 "Its unique design utilizes vertical space, while possessing a very small footprint. Not only are we highly impressed with its design, but also with the level of quality." Rachael Ross, Urban Garden Solutions www.urbangardensolutions.com
San Diego, California (Vocus/PRWEB) January 18, 2011
Vertical vegetable gardens can fit just about anywhere and be grown by anyone. That's the gardening mantra of 2011 as vertical gardening gains in popularity with urban and not-so-urban gardeners. Vertical gardens are gardens that grow up and take up a minimal amount of space fitting on patios, decks and even rooftops. They've gained popularity as innovative entrepreneurs have introduced new products that are simple to use, self-contained and have a very small footprint.
The one-of-a-kind patented MonkeyPots Perfect Patio Planter is a vertical three-tiered planter that needs only 30" of floor space and stands five feet tall. This roomy planter grows tomatoes and other large vegetables while leaving room in the upper two planters to grow herbs, strawberries and other vegetables.
"The ability to grow your own tomatoes and lettuce and still have room left over for an herb garden, makes this product extremely popular with the small space gardener," says Suzy Weast, creator of the Perfect Patio Planter. "Our customers are growing everything from cucumbers and peppers to strawberries and carrots. Almost anything that grows in the ground, flourishes in our vertical planter."
Standing 5' high and just 30" wide, the MonkeyPots product consists of a large base planter and two smaller planters attached via vertical uprights. It's easy to assemble, self-watering and durable! The UV protected recyclable plastic material ensures years of use by urban gardeners. A raised fleur-de-lis design gives the product a designer touch, making it an attractive addition to any patio. Visit http://www.monkeypots.com for gardening ideas and growing tips.
In an online review (http://www.urbangardensolutions.com), small space gardening expert Rachael Ross wrote: "Its unique design utilizes vertical space, while possessing a very small footprint. It's versatile in its configuration and breaks down easily for compact storage. The self-watering feature saves time & effort while raising the probability of garden success. The fact that it's also mobile and is highly attractive, matching almost any décor, is the icing on the cake! Not only are we highly impressed with its design, but also with the level of quality."
Inventor Suzy Weast is a Southern California entrepreneur. "I was frustrated because I was surrounded by concrete and had no space for a garden. So I decided to build one," says Weast. "Our product and website attract both experienced and new gardeners. The MonkeyPots Perfect Patio Planter is the perfect solution for those who'd like a garden but have no place to put one."
For more information, videos, photos and tips on small space gardening, visit http://www.monkeypots.com . The MonkeyPots Perfect Patio Planter can be purchased online at: urbangardensolutions.com, amazon.com, ebay.com and simplyplanters.com
# # #