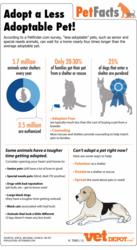 Encinitas, CA (PRWEB) September 18, 2012
VetDepot is helping spread the word about "less adoptable" pets in need! According to PetFinder.com, September 17-21 is Adopt-A-Less-Adoptable-Pet Week. Every year, over 5.7 million animals enter shelters. Unfortunately, some of these animals have a much tougher time finding their forever home than others. These animals might look a little different, have special needs or simply aren't as noticeable in a shelter setting.
With their newest infographic, VetDepot encourages potential pet parents to take a second glance at the shelter animals that are most often overlooked:
•Seniors: These animals still have a lot of love to give! Also, adopting an older animal means not having to deal with a youngster that's not over his chewing or housebreaking stage.
•Special Needs Pets: Many people think owning an animal with special needs takes a lot of work, but this really isn't typically the case. For example, blind animals are often very good at responding to verbal cues.
•Large Black Dogs: These canines are unfortunately less noticeable when sitting in a dreary shelter. But given a chance, the personality of one of these dogs might outshine the rest.
•Pit Bulls: These dogs can be a great fit for an active, caring family. Consider letting one prove that people shouldn't always judge a book by its cover.
•Black Cats: Don't associate these felines with bad luck, their personalities are just as great as any other potential feline companion.
Choosing to adopt a less-adoptable-pet or any animal from a shelter has a lot of perks over purchasing a pet from a breeder. Adoption fees are typically significantly less expensive than purchasing a pet. Plus, shelters often offer counseling to match the right pets to families. Lastly, choosing adoption means giving a deserving animal a second chance.
For those that aren't in a position to adopt a pet just yet, there are other ways to help. Donating pet supplies or volunteering time to a shelter helps provide care for the animals until they're adopted. Also, spreading the word about less adoptable pets in need is an easy way to help!
About VetDepot: VetDepot offers the very same pet products available from your local veterinarian with savings of up to 60%. All VetDepot products are backed by their 100% Satisfaction Guarantee. VetDepot is LegitScript certified, has an A+ rating with the Better Business Bureau and is committed to low everyday prices and excellent customer service. Check out their website at http://www.vetdepot.com or call their toll free customer service line at 866-456-0400. Give your pet the BEST!™