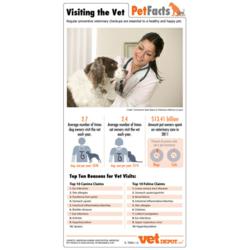 Encinitas, CA (PRWEB) September 27, 2012
The American Veterinary Medical Association has named October National Pet Wellness Month to remind pet owners that wellness checkups are a key component in disease prevention and early disease detection. With National Pet Wellness Month just around the corner, VetDepot is sharing the importance of regular veterinary checkups with its customers.
The American Animal Hospital Association recommends that dogs and cats should visit the veterinarian at least once a year for a wellness exam. As pets age, their wellness checkups should increase to at least two times per year depending on their veterinarian's specific recommendations.
According to VetDepot's Visiting the Vet Infographic, only 4% of dog owners and 1% of cat owners have pet health insurance. This means that a serious medical issue can set an uninsured pet's owner back a significant amount of money, not to mention the stress and heartache that accompanies having a sick pet. One of the best ways to prevent disease is a commitment to regular veterinary checkups. Vets can look for any unusual lumps or bumps, check to make sure vital statistics (temperature, pulse, respiration rate) are in line with the norm, and listen to a pet's heart and lungs for early signs of respiratory or heart disease. This type of examination helps detect disease early on, oftentimes making treatment easier and less expensive.
Visiting the vet regularly also ensures pets are up-to-date with their vaccinations. Current vaccinations can prevent distemper, hepatitis, parvovirus, rabies, Lyme disease, and a host of other dangerous diseases. Pet parents should speak with a veterinarian about specific pet vaccine recommendations for their individual animal.
VetDepot will be using their social media and blog to relay more information about the importance of routine veterinary care to its customers throughout the month of October.
About VetDepot: VetDepot offers the very same pet products available from your local veterinarian with savings of up to 60%. All VetDepot products are backed by their 100% Satisfaction Guarantee. VetDepot is LegitScript certified, has an A+ rating with the Better Business Bureau and is committed to low everyday prices and excellent customer service. Check out their website at http://www.vetdepot.com or call their toll free customer service line at 866-456-0400. Give your pet the BEST!™