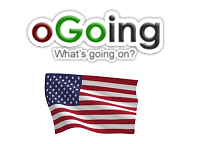 "Through my local community activities, I have been in contact with some of our military heroes and have come to deeply appreciate their selfless service, personal sacrifices and brave stories." Sanjay Dalal, founder & CEO, oGoing
Irvine, California, USA (PRWEB) March 30, 2013
oGoing creates opportunities for America's veteran-owned businesses. More than 3 million USA men and women who have defended our nation's freedoms by serving in America's armed forces have started their own small businesses after their military service. oGoing invites our veteran business entrepreneur owners to join the nation's leading small business social network. The best part: When they join, they will receive one week of free social media marketing! Their business profiles will be shared in front of the entire oGoing small business community.
Whether the owners are looking to start a new business in Construction, provide consulting and technology services to other Businesses, launch a pizza shop on Main Street, open a Hot Franchise, sell to Large Corporations, or contract with Local, State or even Federal government agencies, oGoing is here to help our veterans.
"I am a naturalized USA citizen, an active community volunteer, and a board member of my local Rotary club. I have been in contact with some of our military heroes and have come to deeply appreciate their selfless service, personal sacrifices and brave stories. I also regularly contribute to USO." Sanjay Dalal, founder & CEO, oGoing. "I will highlight every veteran business owner for one week, and provide their business real social media marketing exposure!"
Small businesses are vital to America's economic future; 28 million small businesses create two-thirds of all new jobs. 97% of all customers look online for local products and services; yet most small businesses do not have a web presence. oGoing's mission is to help promote local small businesses throughout USA. Keeping money in our neighborhoods by shopping locally ensures a thriving small business community.
Many veteran owners and entrepreneurs including Alan Holmes have already joined oGoing and are making new connections and growing their business. oGoing gives owners, service providers and entrepreneurs a powerful social media network that spotlights the business, increases online visibility, improves website traffic, grows SEO ranking, attracts new customers and accelerates sales.
oGoing offers an amazing small business social media and online business networking platform for our passionate and hard-working veteran owners. When veteran owners and entrepreneurs join oGoing this week, oGoing will feature their business profile for one whole week in front of the entire community of around 10,000 members. Go here to join: http://ogoing.com/joinogoing