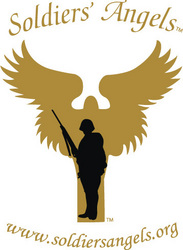 Milford, NH (PRWEB) March 3, 2009
Soldiers' Angels announces a new partnership to support veterans making the transition to civilian careers. The military support nonprofit is teaming up with wounded veteran Matt Bernard and his new IT company, Brinestone, LLC, to assist veterans working toward professional certifications in the Internet Technology field.
Exceptional veteran employees of Brinestone who demonstrate career potential and interest will be eligible to receive support from Soldiers' Angels for their training and testing costs to earn CompTIA Network+ 2007 and Microsoft Certified Systems Administrator (MCSA) certification. These two certifications are highly prized, and both of the skills sets tested will continue to be in high demand in the Information Technology field.
The certification process includes several months of online coursework and certification test taken locally. Successful completion demonstrates very specific hands-on knowledge/skill that goes beyond what is learned in a college degree program, preparing the certificate holder for a variety of IT-related jobs in network technology and Microsoft-certified systems administration.
The plan is have up to six or eight employees participating in the program during the coming year. Bernard has dubbed it Certs for Troops, and hopes that it can eventually be expanded into an independent nonprofit project that reaches beyond just one company.
About Brinestone, LLC: Brinestone is a service-disabled veteran owned corporation, focused on full-service Information Technology and Network Security consulting. Brinestone offers a comprehensive range of services to help businesses protect their valuable assets and infrastructure integrity, and an IT managed service plan to help companies grow and be prepared when they need to expand. For more information, see http://www.brinestone.net, or call 603-809-7828.
About Soldiers' Angels: Established in 2003, Soldiers' Angels is a volunteer-based 501(c)(3) nonprofit providing aid and comfort to the men and women of the United States Army, Marines, Navy, Air Force and Coast Guard, as well as veterans and military families. For more information, see http://www.soldiersangels.org or call 615-676-0239. Tax ID# 20-0583415
###