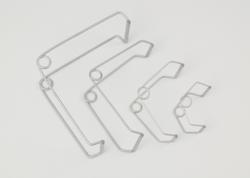 Stow, Ohio (PRWEB) March 29, 2013
Spectrum Surgical Instruments is pleased to offer their Set of 4 Smith-Baxter Mouth Gags. These veterinary instrument devices allows for better visualization and exposure during procedures, with less trauma to the animal's mouth. The design of the mouth gag allows easier insertion across the bridge of the mouth, with greater spring tension. Backed by the company's famous warranty, Spectrum's Smith-Baxter mouth gags are manufactured from stainless steel and are sold in a complete set of four (Order #99-204).
For more veterinary instrument information, please contact a Spectrum Customer Care Representative at 800-444-5644.
About Spectrum Veterinary Instruments
Spectrum Surgical is always listening to its customers and incorporating their ideas for the future. Spectrum Veterinary Instruments has been providing a full line of veterinary surgical instruments since 1983. Spectrum is a leading provider of surgical instrument repair, sharpening and restoration. Spectrum Surgical provides surgical equipment to veterinary centers across the United States.
We have taken a leading role in the industry by providing free educational services about surgical instrument care. The goal is to educate those who come in contact with surgical instruments. Our commitment to quality has led us to increase our quality systems and improvement initiatives.