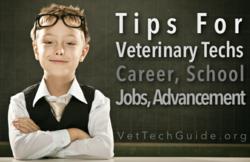 Phoenix, AZ (PRWEB) March 28, 2013
In addition to access to state by state information about what is needed to become a vet tech, the guide has added many resources for students researching this career option, current students and those whom have already started their career.
For potential students seeking this degree we've added information that will help students get through schools with articles covering topics such as a day in the life of a veterinary tech student, improving career prospects by including an internship in the education.
For students near the end of their training, those whom are near taking the Veterinary Technician National Exam or the VTNE, there is an extensive guide composed of tips gathered from students whom have successfully passed it, on how to pass this rigorous and extensive examination.
For those who have completed all studies and passed the VTNE the Vet Tech Guide has tips help them advance in their career with resources on what to do the earn more. We're even putting together tips from current veterinarians who are involved in the hiring process on what vet techs need to keep in mind during the interview process.
Although the need for veterinary technicians is expanding. The Bureau of Labor Statistics (BLS) forecasts above average growth through 2020, while the current annual median wage for vet techs is also on the rise. This, coupled with the projected increase in vet tech job openings due to the retirement of older vet techs, makes this career very promising for newly graduated students and older individuals alike.
None the less vet techs will need to distinguish themselves from others to obtain the best and higher paid positions. Although jobs are plentiful, those who have taken the initiative to accentuate their attractiveness to potential employers have gained better positions and higher pay.
For additional information and to view all the tips and resources to help students and existing veterinary technician please visit the VetTechGuide.org
Contact.
Artur Ciesielski
602-492-8004
artur (at) inphoenix(dot)com