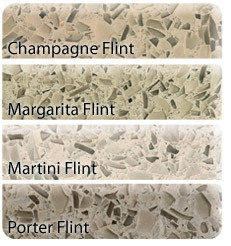 AIA Convention and Design Exposition, San Francisco, CA (Vocus) April 30, 2009
Vetrazzo®, the original Recycled Glass Surface, unveils four gorgeous new earth-tone colors today that showcase the intersection of high design and respect for the environment. The collection of neutrals all combine "Flint Glass", from recycled clear bottles and jars, set in a lightly tinted base. As with all Vetrazzo colors, the new Flint collection combines 100% recycled glass in a proprietary cement-based, resin-free binder. The new colors will also be showcased in May at the Kitchen and Bath Industry Show and the Hospitality Design Expo.
The Glass Transformation Story
Beginning over 300 years ago, flint, a natural mineral, was used to produce an elegant glass that is the predecessor to English crystal. These days flint struts its stuff in rhinestones and continues to take on many humble forms as well, doing the excellent work of keeping food and drinks fresh in jars and bottles. Vetrazzo takes what can't be used for its original purpose and transforms it into the sparkling flint glass Vetrazzo colors: Martini Flint, Champagne Flint, Margarita Flint, Porter Flint.
Ideal for both residential and commercial use, the new color palette ranges from an elegant white on white - Martini Flint, to a classic taupe - Porter Flint, with mid-range beige and khaki - Champagne Flint and Margarita Flint. The new colors are immediately available in the U.S. and Canada through Vetrazzo's network of distributors and Authorized Dealers.
About Vetrazzo
Vetrazzo, LLC transforms recycled glass into artful surfaces for home and commercial applications including countertops, tabletops and vanities. Glass sources include bottles from curbside recycling programs as well as waste from glass manufacturers and building demolition. Vetrazzo® is the original Recycled Glass Surface. Invented and first produced in 1996, Vetrazzo enables customers to showcase their individual sense of style and respect for the environment. Vetrazzo surfaces use only 100% recycled glass, in a patent-pending, resin-free formulation, and are fabricated using standard stone equipment. Vetrazzo, LLC, a certified green business, manufactures in the United States in Richmond, California. Vetrazzo is available in North America through a network of authorized kitchen and bath dealers. For more information, visit http://www.vetrazzo.com.
Contact:
Karen Righthand
(510) 234-5550, x307
Karen (at) vetrazzo (dot) com
# # #