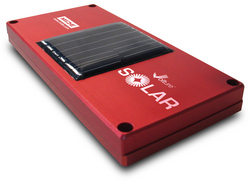 Midé is launching the first Volture™ Hybrid product in Fall '08. It will provide night and day power production, and long-term battery storage. You could say the Volture™ Solar Hybrid Energy Harvesting module shines another light on Midé's energy harvesting capabilities
Medford, MA (PRWEB) October 23, 2008
Wireless sensor networks monitor physical or environmental conditions such as temperature, sound, vibration, pressure, motion or pollutants, and provide real time information on the health and condition of critical components and systems. Powering many of these systems is virtually impossible with wires, and expensive with batteries and their associated maintenance. This situation creates a unique opportunity for energy harvesters such as Midé's vibration energy harvester, the Volture Vibration Energy Harvester.
However, vibration is not the only source of ambient energy available to be harvested. Other sources of energy such as light, heat and radio frequency energy can also be harvested.
While some applications will have only one source of energy to harvest from, other applications may have multiple sources of energy. To take advantage of applications where both solar and vibration energy are available, Midé has combined the Volture™ Vibration energy harvester with the Solar Energy Harvester
This hybrid energy harvester (HeH) is made possible by incorporating a rugged encapsulated solar-panel into the Volture™ enclosure. Currently, the solar panel is integrated with the standard electronics offered for the Volture™; however, Midé is developing the next generation electronics that will add solar and piezoelectric power in a method that will enable intelligent battery charging.
Midé's Director of Engineering, Chris Ludlow, stated; "Midé is launching the first Volture™ Hybrid product in Fall '08. It will provide night and day power production, and long-term battery storage. You could say the Volture™ Solar Hybrid Energy Harvesting module shines another light on Midé's energy harvesting capabilities".
Midé envisions a modular energy harvesting suite for the future of the popular Volture™ products. The next generation Midé hybrid energy harvester, the Volture™ Hybrid, will incorporate several energy harvesting methods, expanding the energy harvesting source envelope, while also providing optimal power management in a versatile modular design. The Volture™ Hybrid Solar module is the first step in making Midé's hybrid energy harvester suite a reality.
If you'd like more information about this topic please visit our website (Mide Technology), or to schedule an interview with Chris Ludlow, please call Chris at 781/306-0609 ext 227 or email Chris at cludlow @ mide.com
###