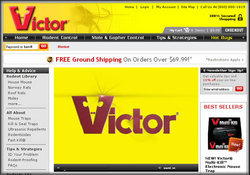 Lititz, PA (Vocus) August 17, 2010
Starting in February, two storms dropped more than 40 inches of snow in many areas stretching from the Mid-West to New England. This record breaking snowfall created a blanket for rodents that would last for several weeks. Below the surface, rodents thrive. They have the ability to breed without having to worry about predators and the harsh weather conditions on the surface.
Throughout the spring, unseasonably warm temperatures across the US coupled with low drought conditions continued to create the perfect breeding ground for rodents. Due to the current conditions and rodent's incredible ability to reproduce, summer population forecasts are reaching historic highs.
As the hot, dry conditions of late summer begin to set in, these elevated rodent populations will be forced to find new sources for nourishment and shelter from the heat. It is important to keep in mind some simple steps that will protect your home and family.
Lifetime's hit show "The Balancing Act" is presenting a segment featuring Victor's new safer and cleaner ways of controlling your pest problems as well as many tips to help keep rodents clear from your home.
Quick Links:
Watch The Balancing Act Segment
Access Rodent Control Tips & Strategies
About Victor® Rodent Control:
Victor® is recognized as a world leader in the rodent control category and has been a trusted brand name since 1890. Victor® revolutionized the rodent control market 100 years ago with the invention of the spring-based Victor® Mouse Trap. Today, we continuously strive to manufacture innovative, quality products that keep your family safe from the dangers rodents pose. Our current product offerings are targeted to meet the varying needs of you, the consumer! So, whether you are attempting to prevent a rodent infestation or trying to fight one, there is a product to fit each and every situation.
Victor® is a registered trademark of Woodstream Corp.
About Woodstream Corp:
Woodstream Corporation is a long-standing, privately held company and a leading manufacturer and marketer of quality-branded wild bird feeders, rodent control products, caring control products for pets and wildlife, decorative garden accents & natural solutions for lawn and gardens.
###