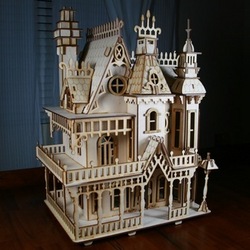 Chula Vista, CA (PRWEB) November 23, 2009
WoodVictorianDollhouse.com successfully launched a Victorian product line for Dollhouses more than one year ago and launched its own online website in April of 2009. Since the launch, 3 new categories have been added and more than 12 new products. Click Here to view the new Victorian Dollhouse website products.
The Victorian Dollhouse product line includes: Victorian Dollhouse Kits, Window Mullions, Victorian Dollhouse Trim, Spandrels, Fretwork, Adjustable Spandrels, Signs, Screen Doors, Room Dividers, Roof Finial, Gable Trim, Gables, Apex Trim, Victorian Headers, Dollhouse Lattice, Victorian Porch Spandrels, Trellis, Furniture, Victorian and Gothic Fence and Gates, Brackets and Balusters Railing.
All parts were designed and are Made in America. Each piece is cut from high quality 1/8" thick Baltic birch, which provides a smooth material for staining or painting. Certain Products offer customization to fit the specific needs of any Victorian Dollhouse builder. Due to varying ceiling heights and hall width - users can custom order based on their ceiling height or hall width. This feature allows the product line to integrate into a wide array of Victorian Dollhouses.
For additional information on the website launch, Laser Cut Crafts or CF National, Inc. please contact Chris Fialkowski or visit http://www.woodvictoriandollhouse.com.
CF National, Inc. is a California Corporation with offices located in San Diego, CA. Since 2000 CF National, Inc. has provide consulting services to businesses in a variety of industries and vertical market segments.
# # #