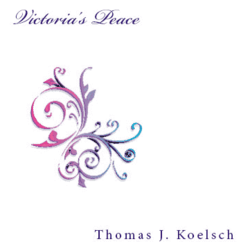 Largo, FL (PRWEB) March 01, 2013
Imagine Huckleberry Finn, sold and subsequently adopted at birth through an underground market, waking up in an urban world of wealth, a dysfunctional family, ROTC prep schools and trussed in a stubborn and unforgiving religion.
Add to this an illicit love story, a mystery to resolve, a psychological thriller, and Victoria, an indomitable alter ego who abducts Huckleberry only to set him free in one of the cleverest escape adventures of all time.
"VICTORIA'S PEACE" is told with a blistering pace, a movie like read, and a frugality of words unmatched. It unravels the plot with absolute unpredictability at the speed of a fast ball.
"VICTORIA'S PEACE" will be available on Kindle at no cost to readers during the weekend of 03/02/2013-03/03/2012, readers can log in to Amazon.com and search for the title "VICTORIA'S PEACE" and download the kindle version at no cost for 2 days.
About the Author:
Mr. Koelsch is a graduate of the University of South Florida located in Tampa Florida. He taught English for thirty-two years at a number of different educational levels, but is now retired and living in Largo, Florida. After years of attending night classes, he finally was able to acquire a Master's Degree in English, but this came after he bailed out of such courses as geometry, algebra two, physics, chemistry, trigonometry, calculus, and, ah, comparative religion. In his teens he was a Boy Scout for several weeks but discovered that he had no aptitude for knot tying or camping out. He preferred the security and simplicity of McDonald's. As a high school student, Mr. Koelsch realized in shop class that he had no real aptitude for handy man work either. The idea that a nut could be turned right to loosen it and left to tighten it, as in a gas valve, just would not register. Hence, Mr. Koelsch wrote a poem in Mrs. Smith's English class at a junior college and received an "A". This success launched his teaching career, but his writing career and first novel were entirely in the hands of VICTORIA.
"VICTORIA'S PEACE" by Thomas J. Koelsch
Publication Date: February 17, 2013
Paperback $12.95, 184 pages ISBN: 978-1482358490
Members of the media who wish to review this book may request a complimentary copy by contacting the publisher at +1-727-362-1229
To purchase copies of the book for resale, please call +1-727-362-1229
For more information about the book, interested parties may log on to http://www.victoriaspeace.com