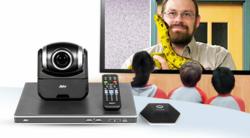 "Schools can use video conferencing in the classroom to pool district resources, enhance the student experience and expose children to the upcoming trends in technology" - Andria Baunee, VoIP Supply Video Conferencing Specialist
Buffalo, NY (PRWEB) March 22, 2013
Schools are now using new AVer video conferencing available from VoIP Supply in the classroom for two reasons; to give students an interactive education that's more fulfilling and to provide better services.
AVer is enriching students' educations through video conferencing with the AVer HVC110 and the AVer HVC310. Both models support:

H.323 and SIP
HD720p 30fps video
Dual displays
Content sharing (wireless or through a VGA port)
Included 7X zoom Pan Titl Zoom (PTZ) camera
The AVer HVC310 sports some additional features including an integrated 4-way MCU, which supports multi-site conferencing and recording and can incorporate Skype video and voice calls when used in conjunction with the AVer VCBridge.
Major benefits of both the AVer HVC110 and HVC310 are no annual maintenance fees (feature, firmware or software) and a 3-year manufacturers warranty.
Educators are finding creative ways to utilize video conferencing in schools, such as:
Virtual Field Trips: Classrooms visit distant places, like a zoo or museum, remotely to enhance lesson plans.
Shared Staff Resources: Tightening school budgets are making it difficult to provide students the staffing resources they need so, schools have turned to video conferencing to gain remote access to specialty staff and other resources.
Distance Learning: Schools are virtually hosting special guest lecturers, mentors, and career days with presenters located across town or in a different time zone.
Andria Baunee, video conferencing specialist at VoIP Supply, explains the benefits of video in education. "Schools can use video conferencing in the classroom to pool district resources, enhance the student experience, and expose children to the upcoming trends in technology."
VoIP Supply is now offering special promotional pricing through April 30th on all AVer video conferencing solutions.
To learn more about the special pricing and how easy it is for schools to benefit from video conferencing, contact Andria Baunee, VoIP Supply's video conferencing specialist, via email at andria (at) voipsupply (dot) com or, call her directly at 716-531-4219.
About VoIP Supply
We are a place of uncovering, cultivating and developing leaders. A world class place to work with big goals, a clear vision, defined purpose and a dedicated team of passionate business professionals. We love what we do and do it better than any of our competition.
Since 2002, VoIP Supply has been the leading supplier of VoIP equipment and complete VoIP solutions in North America. We are known in the industry as responsive and knowledgeable VoIP product experts.
With everything you need for VoIP, VoIP Supply has grown rapidly throughout the years. VoIP Supply is a three-time Inc. 500/5000 honoree, listed by Business First as one of WNY's Most Admired Companies, as well as one of Western New York's Best Places to Work for many consecutive years, including 2012. VoIP Supply is also the first and only Certified B Corporation in Western New York.