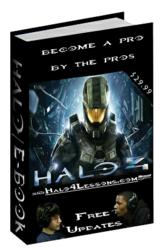 Become an EPIC player with Halo 4 Pro Lessons!
Atlanta, GA (PRWEB) November 06, 2012
Upon the release of this epic new first person shooter game, many players desire to improve their skill with the Pro Halo 4 Lessons guide. Pro Halo 4 serves as a Halo 4 guide that will allow individuals to increase their skill level in a relatively short period of time. Often times as gamers play first person shooters they quickly realize that the game is not fun unless they have a competitive advantage in the skill department.
It can be hard to argue that the best players of first person shooter games are those who have been involved in tournaments. The makers of the Pro Halo 4 Lessons guide are professionals at the game, and have incredible skill they want to pass onto others.
All around the world individuals want to get past a skill wall, learn the glitches, master tournaments, perfect the tactics, and boost skills. Never before has it been so easy to learn the ins and outs of a video game than with Pro Halo 4 Lessons. Master all of the weapons of the game and learn how to dominate tournaments.
In the Pro Halo 4 Lessons guide one will acquire knowledge on:

Mental Halo
Multi-player
Armor Abilities
MLG
Tournaments
Slaying Power
Survival Skills
Tactical Glitches
Game play analysis
Strategies
Pro Secrets
In addition to these benefits Pro Halo 4 Lessons also offers:
FREE Updates
Communication Intel
Weapon Training
Pro Tips
Play Styles
Team Building
Secrets
Becoming your best
It's fair to say that just about anyone can get some sort of tips from professionals to increase their skill level. Perhaps a once in a lifetime opportunity, many will grab this guide while the "getting is good". With so many inexperienced players participating in the game, it could be easiest to level up quickly by first acquiring a deep understanding of the game and implementing the top tactics into game play.
On the other hand, those who are not familiar with the maps, tactics, glitches, and training will likely have a negative experience with the game. Many make the argument that not only is the game more fun to play with advanced skills, it can give players social prestige among friends and competitors alike. To level up fast, have the most fun, and flat out make friends jealous skill levels Pro Halo 4 Lessons might be all one needs!
Pro Halo 4 Lessons is a limited time offer to help anyone increase their skill level. Pro Halo 4 Lessons is available to purchase online for a limited time.