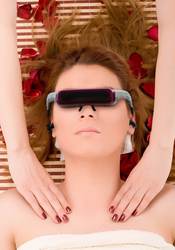 And now close your eyes, and relax
Amsterdam (PRWEB) March 10, 2009
Your five senses, sight, hearing, taste, touch and smell, are the input media of your body. Both stress and relaxation enter your body through these five senses. In spa resorts, it is mostly only touch and smell that influence how you get relaxed. So if you go to a spa resort to get rid of stress, why use two possibilities fewer?
"And now close your eyes, and relax"
The number one concern for spa visitors is how to calm the mind to fully enjoy the relaxation experience. The ideal client lets their mind go blank, float free and go deep into a subconscious bliss. Not many can achieve this. Stressed people claim that a calm mind is impossible because when lying on the massage table, without anything to do but concentrate on nothing much, their minds immediately start to bring back the concerns and pressures of the day, which distract them from the real pleasure. A new video glasses package is about to change this situation.
Less stress with video glasses?
"Only trained yoga and meditation professionals are able to close out seeing and hearing for more than a few minutes," says relaxation expert Dr. Joris Elzinga from Spain. "Video glasses now enable non-professionals to forget their worries with two extra senses. Being ten to twenty minutes away from your daily thoughts leaves a peaceful feeling for a far longer period". Video glasses have two high-resolution LCD screens incorporated, which optically tune DVD images into the appearance of a full- size movie screen. This, combined with the incorporated noise-cancelling headphones, results in an immersive audiovisual experience.
Special Relaxation DVD
To provide an optimised immersive relaxation experience, the video glasses need to be combined with a special relaxation DVD. What makes these relaxation DVDs special is that throughout the course of the DVD, both the audio and the visual stimuli need to enrich each other. This audiovisual synergy maximises the relaxation effect for the user of the video glasses.
Video glasses: successors of TV displays at the spa
In the past, some spa resorts worked with TV displays located on the ceiling above the relaxation units. This often resulted in suboptimal viewing conditions because of the visual and audible distractions of the ´other´ things that happen in a relaxation room. Video glasses deliver an immersive audiovisual experience and block out all the surrounding potential distractions while you lie on your back or on your chest.
Create your own spa experience anywhere, anytime
Eliminate stress with video glasses by focussing on audiovisual stimuli and forget your daily worries. These audiovisual relaxation sessions can be done anywhere and anytime you want. At home, at your work or in the hotel room. All you need is a pair of video glasses, a portable DVD player combined with the best relaxation DVD and off you go. RelaxView has assembled all this in a portable pack.
relaxView 1.3 Relaxation Pack
Exclusively for spa resorts, relaxView B.V. has assembled a relaxation package that suits the needs of the spa visitor who seeks to relax to the maximum. The latest pair of premium high-resolution video glasses, together with a portable DVD player, model Discman and a disposable hygiene set - all this combined with an award winning relaxation DVD -make the spa resort a more relaxed place to be. For further information click: video glasses from relaxView in relaxation 1.3 Relaxation Pack.
Supportive photo material
Low resolution web photo:
Click for the woman with video glasses at spa resort, web-optimised photo
High resolution photo (300 DPI):
Click for the 300 DPI photo of a woman with high resolution video glasses at spa resort
About relaxView B.V. / relaxView.eu
Founded in 2005 and operating from the Netherlands, relaxView B.V. is a leading provider of high-quality video glasses solutions. As an independent provider relaxView B.V. is able to select the newest video glasses that no longer have to compromise between tiny images on a small screen or larger images on a heavy screen to get a true large-screen experience.
# # #