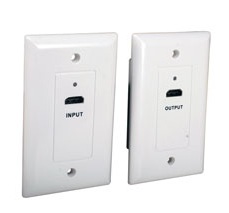 Walnut, CA (Vocus/PRWEB) January 27, 2011
In honor of President's Day, PIMFG.com is offering 10% off all orders for the month of February. To receive 10% off, add store items to cart, then enter promotional code "PRESIDENTS" at check out. PIMFG.com offers a wide selection of computer, home theater, and security products, such as video baluns.
PIMFG.com offers a variety of video signal solutions, such as an HDMI signal extender Featured HDMI signal extenders include HDMI extenders and HDMI video balun wall plates. A HDMI wall extension kit (HDMI-CAT5-WPL) converts the cat5e signal for HDMI device use, such as for televisions and DVRs. The extension kit provides up to 75 ft, ideal for a high definition viewing experience in a large room. PIMFG.com's HDMI wall plate is currently available for $20.00. Also available is the HDMI extender (HDMI-CAT6-40), which extends up to 130 ft, available for $95.00.
PIMFG.com also offers cabling solutions for larger setups, such as security systems that utilize multiple cameras. Rackmount video baluns help keep cables and power supplies organized on a rack, which are often placed within a centralized surveillance room or security room. An organized rackmount helps keep wires secure and prevent them from tangling and interrupting valuable video signal. PIMFG.com's RACK-016-45-SP provides room for up to 16 cameras and is available for only $147.00.
In addition to rackmount video baluns, PIMFG.com is also featuring a bridge port balun. A bridge port balun converts the video signal of up to four cameras and runs them over a single cat5e cable. A bridge port balun is ideal for managing multiple security system cameras. PIMFG.com's bridge port balun (NVA-300-4P485) is available for $25.00.
PIMFG.com offers a wide selection of electronic parts and products. For helpful tutorials on computer, security solutions, and home theater solutions, please visit the video section of PIMFG.com. To receive the latest updates and promotions, subscribe to the PIMFG.com mailing list, blog, follow PIMFG.com on Twitter, or become a fan on Facebook.
About PI Manufacturing Corp.
PI Manufacturing Corp. has been providing customers with quality consumer electronics and accessories for over 24 years. PIMFG.com is a manufacturer, importer and distributor of high quality computer, home theater, and security products. For more information and updates on the company's upcoming products and discounts, please visit the PIMFG.com website or subscribe to the mailing list. Press release produced by Cybertegic.com– an Internet marketing services agency that specializes in search engine optimized press release marketing (SEO Marketing).
# # #