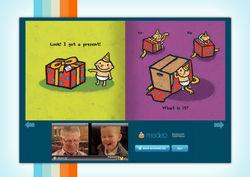 Now more and more educators are using online video chat to experience the advantages of connecting face-to-face through ooVoo.
New York, NY (Vocus) March 30, 2010
From college professors who want to stay in touch with students, to out-of-town grandparents who want to teach their young grandchildren to read, video chat services are becoming part of mainstream education in the 21st century. Computer software from companies like ooVoo has become an affordable resource in elementary, secondary and higher education and a valued teaching tool for families of pre-school children and school-aged kids.
"Today students, teachers, parents and grandparents are embracing the video chat trend and seeing the benefit of video-driven communications delivered anywhere, anytime," said ooVoo CEO Philippe Schwartz. "ooVoo has successfully helped many businesses reduce travel costs and contribute to better work-life balance for employees. Now more and more educators are using online video chat to experience the advantages of connecting face-to-face through ooVoo."
On college campuses around the country, the adoption of ooVoo as an educational tool allows students to work on complex projects outside the classroom, exchange ideas and contact professors holding virtual office hours over ooVoo.
Associate Professor Star Swift from Grand Valley State University in Allendale, Michigan recently implemented ooVoo in a law class to teach students how to use web video conferencing for dispute resolution processes such as mediation, collective bargaining and negotiations. Janice Molloy, Assistant Professor of Michigan State University School of Labor & Industrial Relations in East Lansing, Michigan started using ooVoo to hold office hours. She now requires it for one of her classes to advise and focus on career development for her students.
"We wanted to find out whether a collaborative technology such as ooVoo could be used effectively as a learning tool in legal education," said Professor Swift. "Eighty-eight percent of our students found that using video chat made the course work 'less difficult' and that using ooVoo benefited students by reducing travel time and making collaboration easier between class teammates with conflicting schedules."
ooVoo is also being by used by parents and grandparents to strengthen family relationships and help teach their children to read. Readeo, a Chicago-based company founded in 2009, is pioneering a communication tool to allow children and their families to read together in real-time over the Internet, Readeo recently integrated ooVoo with a BookChat product to combine high-quality video chat with digital books from top children's book publishers.
"For us, the whole point of using video chat was to create a learning experience that allows families to see and hear each other as they build relationships reading together online just as if they were in the same room together," noted CEO Coby Neuenschwander. "ooVoo has exceeded our expectations with high quality, affordable technology that helps children, parents and grandparents experience the joys of reading while they build a strong family bond."
About ooVoo
Founded in 2006, ooVoo is a New York based company that provides a high-quality video-driven communication service to anyone with a computer, broadband connection and a web camera. ooVoo's technology enables people to experience an online face-to-face conversation and share a full range of emotions as if they are in the same room together. ooVoo offers high-resolution video with up to six users, video conversation recording, telephone calls, desktop sharing, video messaging, instant message chat and file sharing. Download ooVoo at http://www.ooVoo.com .
Contact
Bryan Brown, ooVoo, bryan(dot)brown(at)oovoo(dot)com, +1-513-410-4188
###