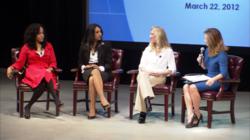 To invent your future, don't look around at what is happening now. Change is so fast now that what you'll do in 2 years does not even exist now
Mountain View, CA (PRWEB) June 19, 2012
As a partner of Invent Your Future Enterprises, Bay Area video production company Creation Ground Media recently developed a promotional video for the first annual Midwest Invent Your Future (IYF) Conference, a cutting-edge women's leadership event being held in Indianapolis today.
"The biggest surprise I have had as an entrepreneur is how willing, open and generous businesswomen are with their time and expertise," said Marilyn Ritter, CEO of Creation Ground Media. "The IYF experience is the perfect forum to connect women with the power of that generosity."
Now in its 6th year, the Invent Your Future Conference originated in Silicon Valley and brings an exciting and unique opportunity for women to reach their full career potential by building leadership and entrepreneurial skills. This one-day educational program features power-packed keynote and seminar sessions on innovation, determination and change, plus outstanding networking opportunities with local leaders and authors.
By using clips from the 2012 Silicon Valley IYF sessions, Creation Ground Media produced a seamless three-minute branded video featuring insights from past presenters giving tips for career and business success that engages the viewer and addresses a number of questions.
"The power of video is that it engages and speaks directly to the viewer," said Ritter. "I think our video really conveys the value of the IYF experience, from the inspiring women people can expect to meet to the variety of topics that are covered."
Invent Your Future is using the video to promote their upcoming Midwest IYF Conference – being held from 8 am to 6 pm at the Crowne Plaza Hotel at the historic Union Station in Indianapolis, Indiana – as well as to promote their brand and future Silicon Valley conferences.
The Midwest IYF Conference is truly groundbreaking event, and the first of its kind to happen in Indianapolis. Themed "Innovation & Leadership: Breakthrough Strategies for Uncertain Times," the event will teach women how to improve their skills and techniques for business and career movements in a time of economic change, empowering them to reach their full potential in their careers through developing entrepreneurial and leadership skills.
Midwest IYF will feature a stellar line-up of informative speakers and seminars on change, resolve and innovation, along with high-caliber networking opportunities with local leaders and authors.
For more information about Creation Ground Media's IYF promotional video or any of the Bay Area video production company's other work and services, call (650) 946-1354 or visit http://www.creationgroundmedia.com.
About Creation Ground Media
Creation Ground Media is a full-service Bay Area business video production company with a success-driven system that provides pre-production: discovery and planning; production: following the plan and capturing it on video; post-production: bringing it all together and adding finishing touches and delivery. They are fluent in all the technologies, from traditional television format to web video marketing, to assure that clients' videos are delivered efficiently, appropriately, and correctly whether it is for broadcast television, corporate websites, social networking sites, PDAs, or DVD, and can also create business videos.
About Invent Your Future Enterprises
Invent Your Future Enterprises is a social enterprise specializing in the retention, development and acceleration of women leaders. Invent Your Future offers interactive programs, products, simulations and services including corporate speaker programs, webinars and conferences and special events for women and girls.
Over the last twenty years, our founders and advisors have created and led a variety of successful programs for corporate and entrepreneurial leaders. We also partner with and support non-profit organizations to create high quality programs for the community.