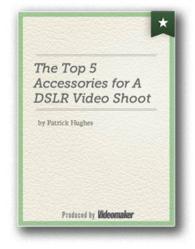 Chico, CA (PRWEB) March 14, 2013
DSLRs continue to transition to higher quality video and are becoming more and more common for all types of videographers. It's important to know what 5 accessories are an absolute necessity when shooting with a DSLR camera.
As they say, "The show must go on" and a shoot can continue without some video accessories, but forget these five essentials and everything quickly grinds to a halt. This free report, The Top 5 Accessories for A DSLR Video Shoot, helps track the simple, important accessories that can make or break a DSLR video shoot. It's easy to get complacent and assume that you can rely on just a DSLR and your own luck, but luck has a tendency to run out at the worst times. That's why Videomaker created this helpful checklist, so that even the most absent-minded videographer will know what they need to have at their side.
Since 1985, Videomaker has been the leading authority in the nation for consumers and semi-professional video producers. It is dedicated to helping others achieve their pursuits by using video as a common communications medium. Videomaker strives to ensure every shoot is a success and this free report is designed to help you track the essential little things that are so easy to forget. Patrick Hughes, partner and production director at BuzzFarmers, LLC compiled this helpful guide to the five essential tools for a smooth DSLR shoot.
Visit The Top 5 Accessories for A DSLR Video Shoot to download the free report at http://www.videomaker.com/DSLRtop5