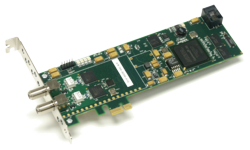 We have leveraged our nimble manufacturing, assembly, and test processes...
Slinger, WI (PRWEB) March 29, 2013
VideoPropulsion® (OTC:VPTV) extends its OEM line of DVB compatible PCI cards with the introduction of the Torrent CN3LPe 3 channel COFDM multiplexing modulator card. Available with a PCI or PCI-Express (PCIe) interface, the new card offers 3 channels of COFDM RF output with 6,7, or 8 MHz bandwidth, upconversion of 50-860MHz RF output, and support for DVB-T and DVB-H implementations.
The CN3LPe hardware and device drivers collect and multiplex MPEG-2 transport streams directly from host memory. The resulting multiple program transport streams (MPTS) are COFDM encoded, modulated, and transmitted with upconversion. Extensive documentation and sample applications are included in the Software Development Kit (SDK), and drivers are available for virtually any distribution and version of Linux upon customer request.
"We have leveraged our nimble manufacturing, assembly, and test processes in order to quickly turn the new CN3LPe DVB card", said Curt Cramer, Vice President of Manufacturing for VideoPropulsion. "Fast turn-around coupled with incredibly high yield has always been a hallmark of excellence at VideoPropulsion. This new card is no exception, and is a great compliment to our already impressive family of PCI and PCIe based multiplexing modulator cards."
The CN3LP/CN3LPe is available direct from VideoPropulsion and begins shipping in early April 2013.
About FloodGate
FloodGate appliances from VideoPropulsion bring hospitality HDTV programming from satellite, and cable television MSOs to a variety of hospitality markets and support distribution via RF (coax), IPTV (Ethernet), or wireless mobile infrastructures. All FloodGate models automatically encrypt HD channels to meet Hollywood's strict requirements for content protection using standard technologies readily available from commercial hospitality television set and mobile device manufacturers. FloodGate systems can co-exist with most pay-per-view and video on demand systems currently deployed.
About VideoPropulsion
For nearly 40 years, VideoPropulsion has been a world leader in hardware and software for high performance, low cost per stream, digital content manipulation, and has established a reputation for providing unique HDTV, VoD, and IPTV products. The Company offers revolutionary FloodGate satellite and CATV transcryption appliances as well as OEM computer modules for a variety of applications, including streaming, multiplexing, demultiplexing, modulation, demodulation, transcoding, encryption, and splicing MPEG formatted data.
For further information, contact:
Kathy Cain
Vice President of Sales
VideoPropulsion
255 Info Highway
Slinger, WI 53086
(303) 810-8255
sales(at)videopropulsion(dot)com
http://www.videopropulsion.com
VideoPropulsion and FloodGate are registered trademarks of VideoPropulsion
Interactive Television, Inc.