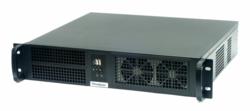 Our engineering team takes great pride in pushing the envelope when it comes to performance
Slinger, WI (PRWEB) March 29, 2013
Continuing its relentless pursuit of the highest-density and lowest-cost per stream MPEG processing solutions in the industry, VideoPropulsion® (OTC:VPTV) announces it has increased the throughput of its FloodGate FG-9200 Series headend bulk encryptors for hospitality.
Two models are available that support either Multiple Program Transport Streams (MPTS) or Single Program Transport Streams (SPTS) – depending on the operator's environment. The FG-9200M now supports up to 16 MPTS, each with up to 42 program streams, while the FG-9200S supports to 32 SPTS. The FG-9200 series has been a popular choice across all tiers of Multiple Service Operators (MSOs) in the US and enable the secure delivery of High Definition (HD) programming to hotels and other commercial establishments.
"Our engineering team takes great pride in pushing the envelope when it comes to performance," said Joe Nordman, Vice President of Engineering for VideoPropulsion. "Because of the depth and longevity of our team's work experience, we are uniquely positioned to tackle any requirement for MPEG transport stream processing in an agile manner."
VideoPropulsion is the only bulk encryption solution available in the industry that offers support for virtually any type of Advanced Encryption Standard (AES), including de-facto hospitality encryption standards like Pro:Idiom, Verimatrix, and Samsung LYNK. VideoPropulsion also has models available to support virtually any type of input and output – from in-the-clear or DTCP-encrypted IP streams on input, to Pro:Idiom or Samsung LYNK encrypted streams output on multiplexed QAM256 RF over coax. International models are also available to support DVB-C and QAM256 Annex A operating at 8MHz.
The FloodGate FG-9200 Series bulk encryptors are available direct from VideoPropulsion.
About FloodGate
FloodGate appliances from VideoPropulsion bring hospitality HDTV programming from satellite, and cable television MSOs to a variety of hospitality markets and support distribution via RF (coax), IPTV (Ethernet), or wireless mobile infrastructures. All FloodGate models automatically encrypt HD channels to meet Hollywood's strict requirements for content protection using standard technologies readily available from commercial hospitality television set and mobile device manufacturers. FloodGate systems can co-exist with most pay-per-view and video on demand systems currently deployed.
About VideoPropulsion
For nearly 40 years, VideoPropulsion has been a world leader in hardware and software for high performance, low cost per stream, digital content manipulation, and has established a reputation for providing unique HDTV, VoD, and IPTV products. The Company offers revolutionary FloodGate satellite and CATV transcryption appliances as well as OEM computer modules for a
variety of applications, including streaming, multiplexing, demultiplexing, modulation, demodulation, transcoding, encryption, and splicing MPEG formatted data.
For further information, contact:
Kathy Cain
Vice President of Sales
VideoPropulsion
255 Info Highway
Slinger, WI 53086
(303) 810-8255
sales(at)videopropulsion(dot)com
http://www.videopropulsion.com
VideoPropulsion and FloodGate are registered trademarks of VideoPropulsion Interactive Television, Inc.