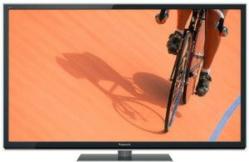 Denver, Colorado (PRWEB) March 30, 2013
Find My Price issued a press release on Wednesday informing people that a new review for Panasonic's Viera TC-P50ST50 TV set was added on their list of published articles.
Design is usually the first element that is described in TV set reviews. The TC-P50 model received a small score from reviewers at the tech website because the product is larger at the bottom and narrower at the top. While this size difference is meant to distinguish Panasonic from the rest of the Plasma systems on the market, it was appreciated neither by consumers, nor by analysts.
The 50-inch display was, however, largely praised due to the good picture and video quality, but also to the true to life color representation even in very bright areas. Moreover, darker images are rendered black because the TV system has a good black level performance.
The Panasonic system that was tested by reviewers is highly advanced although it is sold for a rather small price. Unlike other models that cost more or less the same, the TC-P50 has been provided with HD 3D video and 3D sound technologies, which means, owners can use these sets to watch tridimensional movies. A pair of 3D glasses is required to fully appreciate the TV set and the most recommended in this case, is Panasonic's Active Shutter 3D Eyewear because this product is well-built and has a light-weight structure.
Buyers will find the TV set incredibly easy to use due to the user-friendly interface. Reviewers were pleased with the setting options that the product has to offer because users will be able to perform numerous activities such as surfing the Internet with the help of the built-in Wi-Fi and watching online channels.
Find My Price was launched at the beginning of the year being quickly acknowledged as a reputed tech reviewer. Their good reputation is due to the accurate information that editors add to their product recommendations and market reports.