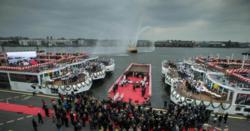 (PRWEB) March 25, 2013
River cruising is the hottest segment of travel right now, and in a fitting feat for the world's leading river cruise line, Viking River Cruises (http://www.vikingrivercruises.com.au) today set a world record with the christening of 10 new Viking LongshipsTM. The first-of-its-kind simultaneous christening ceremony in Amsterdam debuted the ships – Viking Aegir, Viking Atla, Viking Bragi, Viking Embla, Viking Forseti, Viking Jarl, Viking Rinda, Viking Skadi, Viking Tor and Viking Var – and was certified by a GUINNESS WORLD RECORDS™ adjudicator as 'The Most Ships Inaugurated in One Day by One Company.' Playing an integral role in the event were 10 distinguished women from around the world, representing the key Viking brand pillars of history, art, education, exploration and discovery, to serve as ceremonial godmothers for the new ships.
"Today is a proud day for Viking and for river-cruising. We are honoured to showcase 10 of our revolutionary new Longships and to have had such a celebrated group of women helping us christen them," said Torstein Hagen, Chairman of Viking Cruises. "Our guests are explorers, just like the ancient Vikings of our Norse heritage, which is why we deliver authentic and enriching travel experiences like no other cruise line."
Guests at the christening ceremony enjoyed remarks by each godmother and a presentation on the growth of river cruising by Hagen. A GUINNESS WORLD RECORDS adjudicator also presented Hagen with an official recognition of the record breaking achievement, 'The Most Ships Inaugurated in One Day by One Company' – eight* – breaking the previous record of two ships. A first in modern history, four of the christenings took place in front of a crowd of approximately 700 in Amsterdam, and the remaining six were conducted live via satellite from the Neptun shipyard in Germany. The celebration concluded with an on board dinner and maiden voyage cruise around the Amsterdam harbour.
Viking Godmothers
With cultural enrichment and privileged access at the heart of every experience Viking offers its guests, 10 women of eminence from around the world were selected to honour that focus and serve as ceremonial godmothers for the new ships. They included:

Lady Fiona Carnarvon, Godmother of Viking Skadi, is the wife of George Herbert, 8th Earl of Carnarvon. A former auditor at Coopers & Lybrand, Lady Carnarvon ran her own fashion label, Azur, and now successfully manages affairs at the Castle, including many special events such as the Egyptian Exhibition. Fascinated by Highclere's rich history, Lady Carnarvon recently authored the New York Times Bestseller "Lady Almina and the Real Downton Abbey: The Lost Legacy of Highclere."
Agapi Stassinopoulos, Godmother of Viking Rinda, was born and raised in Athens, Greece. While collaborating with her sister, Arianna Huffington, on research for her book about the Greek gods, Stassinopoulos' love for the gods and goddesses was ignited and led to two books of her own – "Conversations with the Goddesses" and "Gods and Goddesses in Love" – as well as a one-woman show and a PBS special. She also co-produced and co-hosted a documentary called "Quest for the Gods," shot on location in Greece. Stassinopoulos speaks and conducts seminars around the world, and her latest book is the bestseller "Unbinding the Heart." She is also a frequent contributor to The Huffington Post.
Alexandra Lobkowicz, Godmother of Viking Forseti, is the chairman of the nonprofit that oversees the preservation of the vast Lobkowicz collections including thousands of works of art, a significant library and family archive spanning eight centuries. In addition, she oversees dozens of international loans, festivals, restoration projects and ongoing educational programs relevant to the collections. A former teacher, Lobkowicz also established educational programs at the Lobkowicz museums to help raise funding for Czech schools. With personal input from Alexandra and William Lobkowicz, Viking has introduced a privileged access tour to Lobkowicz Palace in Prague.
Zhang Ling, Godmother of Viking Embla, is a dedicated educator at Cen He elementary school in the city of Jinzhou, Hubei Province, China – a school sponsored by Viking River Cruises. As one of many dedicated teachers she feels fortunate to have won recognition as an "excellent educator," "excellent educator of ethics" and "excellent mentor for young pioneers." She also coaches the children's orchestra, which has proudly performed for the thousands of Viking's Yangtze River cruise guests who have visited during the past seven years.
Marit Barstad, Godmother of Viking Tor, is the sister of Viking's chairman Torstein Hagen. Marit started her working life as a personal assistant to the chairman of Øivind Lorentzen AS, a company that in the late 1960's built two of the ships that subsequently became Princess Cruises. She is now a manager in the health services sector in Ski, a town outside Oslo where she has lived with Odd Barstad, her husband for over 40 years.
Dertje Meijer, Godmother of Viking Bragi, is President and CEO of the Port of Amsterdam, which is the fourth largest port in Europe, hosting more than 100 sea cruise ships and 1,300 river cruises ships, and handling more than 75 million tons of cargo every year. Prior to Meijer's career at the port, she worked for 15 years in business development projects at one of the world's great transportation hubs, Schiphol Airport.
Geraldine Norman, Godmother of Viking Var, is founder of the Times-Sotheby index of art prices and best-known for her discovery of the art forger Tom Keating. An expert in the history of The Hermitage Museum in St. Petersburg, Russia, Norman also authored "The Hermitage: The Biography of a Great Museum." Since, Norman has been working on international outreach for the Hermitage, starting The Hermitage Magazine and assisting in the set up the Hermitage Rooms exhibition space in London.
Sabine Rhabek, Godmother of Viking Jarl, is a founding member of the emergency room team at the General Hospital (AKH) in Vienna and a former nurse at the United Nations Mission Hospital in Iran, where she provided medical care to thousands of Kurdish refugees during the first Gulf War. Following her time at the Mission Hospital, Rhabek transitioned into medical technology, providing tech support for users of implanted defibrillators and pacemakers.
Birgit Brandner-Wallner, Godmother of Viking Atla, is the co-owner of a Brandner Gmbh subsidiary that operates 38 piers in Austria and Hungary as well as two passenger ships, MS Austria and MS Austria Princess. In 1997, Brandner-Wallner was the first woman in Austria to acquire her ship's captain certification.
Eszter Völner, Godmother of Viking Aegir, is a Budapest native, and lives on the Danube's shore. Daughter of Dr. Pál Völner, secretary of the Hungarian State Ministry of National Development, she studies tourism and catering as well as her first love, music, including voice and violin, and looks forward to a future in the classical singing field.
New Viking Longships
Named Best New River Ships of 2012 in Cruise Critic's® Editors' Picks Awards, the Viking Longship class of vessels integrate a patented design and cutting-edge technology with comfortable amenities that reflect guest preferences and current travel trends. These new features include a revolutionary new all-weather indoor/outdoor Aquavit Terrace that reinvents the lounge by bringing panoramic river scenery indoors with retractable floor-to-ceiling glass doors, allowing guests to enjoy the views and dine al fresco. Accommodating 190 passengers in 95 staterooms, Viking Longships feature two Explorer Suites – the largest river cruise suites in Europe complete with 270-degree views – as well as seven two-room Veranda Suites, each with a full-size veranda in the living room and French balcony in the bedroom; 39 Veranda Staterooms with full-size verandas; and 22 French Balcony Staterooms. Additionally, Viking Longships lead the river cruise industry with sustainability upgrades including on board solar panels, an on board organic herb garden, and energy-efficient hybrid engines that reduce vibrations for a remarkably smooth ride. All Viking Longships are built at the Neptun Yard in Germany, part of the Meyer Neptun group.
In 2014, Viking plans to break its own record with the launch of 12 new Longships; all of the new ships will sail the line's most popular European itineraries: Tulips & Windmills (10 days, Amsterdam-Antwerp-Amsterdam); Passage to Eastern Europe (11 days, Budapest-Bucharest); Romantic Danube (8 days, Budapest-Nuremberg); Grand European Tour (15 days, Amsterdam-Budapest); Danube Waltz (8 days, Passau-Budapest) and Rhine Getaway (8 days, Amsterdam-Basel).