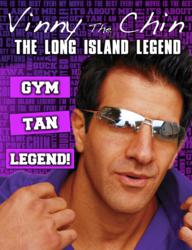 Funniest Movie of 2013
New York, New York (PRWEB) March 08, 2013
Vinny is making history by being the FIRST Youtube star with adult focused content to get his own full length feature film. Vinny The Chin is the second Youtube celebrity though to star in his own movie. "Fred" aka Fred Figglehorn is the first, played by Lucas Cruikshank.
The film depicts the viral video star as he goes through his seasonal ritual of preparing the whole winter to party in the Hamptons on Memorial Day Weekend for the summer. When the self-proclaimed "Legend" was asked about starring in his first movie he aggressively replied "It doesn't surprise me the least that they did a movie with me. I was always hot. It took all this time for all these Hollywood losers to finally catch up with me." Guest appearances include Cocaine Cowboy Mickey Munday, Sopranos Joe Gannascoli, MMA champion Mike Brown, and video vixen Tammy Torres.
"This is easily the FUNNIEST movie of 2013" says CEO of Family Films. "Vinny is in situations that would make Sacha Baron Cohen cringe."
Just like Vinny, the film does not come without controversy. The movie promotes drug use, unprotected sex, racism, abortions, chauvinism, and has a confession with a priest that is the definition of "sin". "Yes, the film dives face first into these hot topics, but you can't help to bust out laughing at Vinny's point of view on all of the them. To his large internet fan base, Vinny is a "Guru" and his point of view is valued."
The movie is available right now at Best Buy, Verizon Fios, AT&T Uverse, Amazon,Facebook, Distrify, Sears, and Barnes & Nobles. iTunes release in the near future. For all up to date information on Vinny, visit his website http://www.VinnyTheChin.com
Vinny The Chin: The Long Island Legend also has the biggest soundtrack to ever hit the Electronic Dance Music community made up of all original House Music. It was released by Living The Dreams Records and is available on iTunes, Beatport and all major retailers. Look for Vinny to make an appearance in your town soon on his club tour with house music giant Groove Fox Radio.