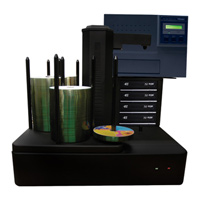 We are very pleased to partner with Vinpower. With the TEAC P-55C thermal printing solution...
Los Angeles, CA (Vocus/PRWEB) April 08, 2011
Vinpower Digital announced today the availability of their Cronus series automated publishing solution system along with a TEAC P55 thermal printer. The Cronus series of publishing solution centers enable multiple functions related to burning, ripping, archiving, labeling, etc for data stored on optical discs like CD's, DVD's, or Blu-ray. Utilizing the TEAC P55 thermal printer, allows the user the additional ability to label the discs with a specific image, bar code, or text of their own design onto optical discs.
"We are very pleased to partner with Vinpower. With the TEAC P-55C thermal printing solution, our ultimate customers will be confident that they will produce the finest images, most vibrant colors and highest durability available today on a disc. Additionally, TEAC's exclusive Versamax ribbon offers users the widest choice of media selection. It's a win, win situation for the customer," says Les Luzar, Sr. VP Sales and Marketing, TEAC America, Inc.
The Cronus series is available with 2 or 4 drives for burning CD/DVD's only or with Blu-ray capability and comes with many advanced applications such as:
> Networking support (Client/Server)
> True Speed Asynchronous duplication for a faster run rate
> Job Queue: Supports the ability to queue multiple jobs for unattended operation
> Email notification when jobs are complete or the reporting of an error condition
> Powerful Label Design software
> Quick Text Printing (Text Overlapping)
> Serial # / Barcode Printing support
> Job Report Generating
> Multiple Job Queue Management Support
> Web Based Administration
> Adjustable Layouts for customized viewing
> Multi-master read-in support: Users can read-in a stack of masters and create CDI or ISO images
> Hardware can be integrated within existing customer base software for greater implementation within the environment
> PLUS SO MUCH MORE!
"The Cronus is more than a duplicator, it's a full service data center where the user can copy, record, archive, and generally store important content while labeling the optical discs with a custom design or bar code," states Ryan Swerdloff, Vice President of Marketing and Sales for Vinpower Digital. "In addition, utilizing the TEAC P55 printer, we are able to ensure a nearly water proof and scratch resistant finish on the top labeling side of the disc for a truly professional looking inexpensive total package."
About Vinpower Digital
Vinpower Digital is the leading manufacturer of standalone optical disc duplication equipment. With our corporate office in Los Angeles, California, USA, as well as production and sales offices in Taiwan and Germany, we have the ability to deliver the most advanced and reliable standalone optical disc and flash duplication controllers, manual towers, and robotic autoloaders anywhere in the world. As a true manufacture, Vinpower Digital has the ability to OEM/ODM customized applications and equipment for qualified vendors on a number of levels. Never satisfied with good enough, Vinpower Digital constantly pushes the envelope to develop new features and enhance their existing product to stay in tune with the customers' needs and expectations.
For further information on any or all of Vinpower Digital's line of duplicators, please visit our website at http://www.vinpowerdigital.com.
# # #