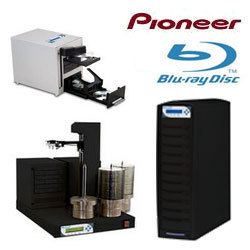 Pioneer has long supported the advancement and adoption of the Blu-ray Disc format, so we're very pleased that Vinpower Digital has chosen to use our latest Blu-ray Disc drive as an essential element for their new product line
Los Angeles, CA (PRWEB) February 25, 2009
Vinpower Digital announced today the availability of their latest Blu-ray Disc duplicator lines offering true 8X BD-R duplication speed. Using the Pioneer's BDR-203 8X Blu-ray Disc writer drive(s) combined with the exceptional performance of the SharkCopier manual tower and Titan/Cube autoloader duplicator series, provides reliable high quality copies of Blu-ray master disc(s) with a faster turnaround time.
"Blu-ray Disc adoption has already surpassed the rate of the DVD adoption when compared in context to their respective historical growth data. So it's a natural conclusion that Blu-ray Disc duplication will meet and exceed that of DVD in the near future, the only limitation at this time is speed. That's why every incremental increase in duplication speed is a huge boost to the duplication market," states Ryan Swerdloff, VP of Marketing at Vinpower Digital.
Vinpower Digital's line of standalone Blu-ray Disc duplication towers are available in multiple drive configurations, from one up to an astounding 15 Blu-ray Disc writer drives in a single duplicator. In addition, Vinpower's line of autoloaders also boasts impressive drive and disc capacity for reliable unattended mass duplication. Vinpower Digital developed the new line of 8X Blu-ray capable duplicators to enable users to make exact digital copies of their original Blu-ray, DVD, and/or CD masters. The Blu-ray Disc duplicators come standard with a massive 500GB up to 1TB hard drive for storage of multiple high capacity 25GB/50GB video or data files in the Blu-ray Disc format. The Blu-ray SharkCopier manual tower line also includes a USB interface. This allows the unit to be used as an external Blu-ray Disc writer, allowing the user to burn their original master disc(s) directly from a computer for use in the duplicator.
"Pioneer has long supported the advancement and adoption of the Blu-ray Disc format, so we're very pleased that Vinpower Digital has chosen to use our latest Blu-ray Disc drive as an essential element for their new product line," declared Andy Parsons, Senior Vice President of Advanced Product Development at Pioneer Electronics (USA) Inc.
In addition, Vinpower Digital has teamed with the Optical Quantum line of Blu-ray Disc recordable media to ensure the highest quality Blu-ray Disc duplication. Optical Quantum offers an assortment of recordable Blu-ray Disc media which has proven to be extremely reliable in high speed duplication as well as in playback compatibility, especially when burned in the Vinpower Digital line of duplicators.
About Vinpower Digital
Vinpower Digital is the leading manufacturer of standalone optical disc duplication equipment. With our corporate office in Los Angeles, California, USA and production offices in Taipei, Taiwan, we have the ability to deliver the most advanced and reliable standalone optical disc duplication controllers, manual towers, and robotic autoloaders anywhere in the world. As a true manufacture, Vinpower Digital has the ability to OEM/ODM customized applications and equipment for qualified vendors on a number of levels. Never satisfied with good enough, Vinpower Digital constantly pushes the envelope to develop new features and enhance their existing product to stay in tune with the customers' needs and expectations.
For further information on any or all of Vinpower Digital's line of duplicators please visit our website at http://www.vinpowerdigital.com.
###