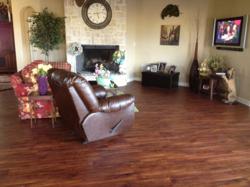 This vinyl plank flooring has been voted the industry's best because of its durability, beautiful finish and waterproofing. If you have been wanting to redo your floors with a budget conscious yet very attractive flooring solution
Dallas, TX (PRWEB) March 08, 2013
Dallas Flooring Warehouse is announcing the immediate availability of their new waterproof, "Click Lock Easy Installation" vinyl plank flooring in Dallas. This durable vinyl plank flooring has the appearance of hardwood, yet it is completely waterproof. Dallas Flooring Warehouse has secured a massive inventory of this beautiful flooring to be sold at sub wholesale pricing. Beginning Friday, March 8, 2013 Dallas Flooring Warehouse will offer this "Click Lock Vinyl Plank Flooring" for only $1.99 per square foot.
Dallas Flooring Warehouse vinyl plank flooring specialist, Trey Smith, says, "This vinyl plank flooring has been voted the industry's best because of its durability, beautiful finish and waterproofing. If you have been wanting to redo your floors with a budget conscious yet very attractive and extremely resilient flooring solution then you owe it to yourself to take a look at our Click Lock Vinyl Plank Flooring, it's amazing!".
Dallas flooring warehouse provides wholesale flooring in Dallas with a massive multimillion dollar on-site inventory and wholesale direct pricing they are dedicated to providing Dallas-Fort Worth residents with the best flooring products at the lowest possible prices. Their address is Dallas Flooring Warehouse 8717 Directors Row Dallas, TX 75247. For more information about Dallas flooring warehouse visit their website at dallasflooringwarehouse.com.
Trey Smith, Dallas vinyl plank flooring specialist, can be reached on his direct line at 817-240-0612.