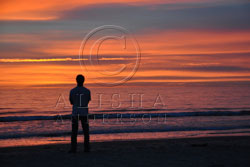 I'm excited to be a part of the Workhouse Arts Center. There's nothing like it anywhere else in our area; it's a beautiful campus with so much to offer artists and the public
Lorton, Virginia (PRWEB) January 04, 2013
Alisha Anderson, a Virginia-based art photographer, has been accepted to the Workhouse Arts Center in Lorton, Virginia, as an associate artist. Her photographs will be on display at the center for two years, starting in January 2013.
A native of Washington, D.C., Alisha Anderson has had a lifelong passion for photography and travel. She has made tremendous efforts to combine the two while visiting places like Australia, Greece, Spain, Turkey, and Kenya. Alisha has been to more than two dozen countries and has taken thousands of photographs along the way.
Alisha's work will now be exhibited at the Workhouse Arts Center, an expansive facility dedicated to providing artists with studio and exhibition spaces and providing the public with art education programs. The Workhouse Arts Center opened in 2008 and resides on a 55-acre tract that was part of the former Washington, D.C., correctional facility in Fairfax, Virginia.
Alisha's work is managed by Stairwell Gallery Photography, a private art gallery in Woodbridge, Virginia, that features her hand-selected framed images in an open three-story foyer consisting of 37 stairs (Stairwell Gallery). Alisha's images may also be viewed and purchased through their website, StairwellGalleryPhotography.com.
"I'm excited to be a part of the Workhouse Arts Center. There's nothing like it anywhere else in our area; it's a beautiful campus with so much to offer artists and the public," said Anderson.
Stairwell Gallery Photography's website was created by Advanced Web, an Internet consulting and web development company located in Virginia. For more information about Alisha Anderson's work, please visit StairwellGalleryPhotography.com.