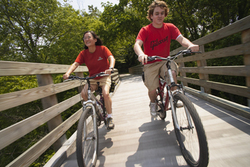 Virginia's Best Kept Secret
Richmond, Va. (PRWEB) March 11, 2009
Virginia is a top destination for people who love to make the most out of their vacation. To celebrate the 40th anniversary of Virginia is for Lovers and to help travelers get more vacation for their money, Virginia is sharing a list of 40 free things to do on vacation. From free museums to free bike trails and free history tours and concerts, Virginia is an exciting and affordable travel destination.
Here's a list of 40 free things to see and do while on vacation in Virginia, with more details found on Virginia.org.
The Great Outdoors:

Virginia Birding and Wildlife Trail - Statewide. Virginia has some 400 species of birds, 250 species of fish and 150 species of terrestrial and marine animals. Most can be found along the 65 trail loops Virginia Birding and Wildlife Trail, the first such in America. From Atlantic seashore to Appalachian mountains, and in urban and rural settings, the trail brings visitors up close and personal with Virginia's abundant wildlife treasures.
Virginia's Bicycling Trails - Statewide. Virginia is home to 838 miles of the U.S. Bicycle Route System, more than any other state, and is the only state with stretches of both official U.S. Bicycle Routes. Bikers also find outstanding "Rail Trails" throughout the Commonwealth - former railroad beds turned into scenic biking trails. Bring a bike or rent one from a local outfitter.
Crabtree Falls - Nelson County. Called "Virginia's Best Kept Secret", Crabtree Falls features a series of five major cascades and a number of smaller ones that fall a total distance of 1,200 feet. The more daring hiker may continue along the 3-mile trail to four other overlooks offering stunning views of the falls and outlooks of the Tye River Valley.
Pony Pasture Rapids - Richmond. The breath-taking scenery along the James River so enticing and the vast array of outdoor activities will addictive. The area is perfect for swimming, hiking, tubing, snorkeling, fishing, bird watching, biking and canoeing.
Chincoteague National Wildlife Refuge - Chincoteague. More than 14,000 acres of beach, dunes, marsh and maritime forest is a haven for nature enthusiasts. The wild herds of "Chincoteague Ponies" are the highlight of this refuge which also provides environmental education and recreational activities such as fishing, hunting, wildlife observation, interpretation, and wildlife photography. Free for those who walk or bicycle in. Small fee for cars.
Great Dismal Swamp National Wildlife Refuge - Suffolk. Several poets and history writers have viewed this place as either a peaceful paradise or a strangely mysterious setting. With a vast assortment of trails to discover visitors can enjoy bird watching, hiking, biking, boating, fishing, and hunting.
Mason Neck National Wildlife Refuge - Woodbridge. The Mason Neck National Wildlife Refuge was created to protect vital bald eagle nesting, feeding, and roosting habitats along the Potomac River. Along with active eagle nesting, the refuge is a breeding ground for great blue herons with more than 1,200 nests occupied there. Visitors also can view the refuge along two trails, one through woods and one in Great Marsh.
Virginia Beach and Boardwalk - America's longest commercial beach is also one of America's favorite. The three-mile concrete boardwalk is full of activity with bicyclists, strollers, roller bladders and people-watchers. During the summer three oceanfront stages offer nightly entertainment. This vibrant attraction features family activities, outdoor recreational facilities, year-round events and a diverse selection of restaurants and shopping opportunities.
Mount Rogers National Recreation Area - Southwest Virginia. The 115,000 acre mountain recreation wonderland includes hiking trails, lakes, streams, historic sites and wildlife viewing. Put on hiking shoes and hoof it to the top of Mt. Rogers for a bird's eye view from the highest point in Virginia.
Maymont - Richmond. Once a private 100-acre Victorian estate, Maymont was bestowed to Richmond in 1925 as a public park and museum. A true family attraction, Maymont offers tours of the Victorian mansion, exhibits of wildlife native to Virginia, themed gardens, Nature Center and Children's Farm.
History Lives Here - free historical sites:

Virginia Civil War Trails - Statewide. More Civil War battles were fought in Virginia than in any other state - by far. Armies campaigned, fought and camped for four years over the landscape. The Virginia Civil War Trails program marks more than 400 historic sites, most for the first time, telling the dramatic story of what happened on the sites where it happened. Free maps are available in Welcome Centers and visitor centers throughout the Commonwealth.
Booker T. Washington National Monument - Franklin County. This is the site of famed educator and presidential advisor Booker T. Washington's birth, early life, and emancipation. The park's visitor center contains exhibits on Washington's life and offers an audio-visual program interpreting his career and accomplishments.
Hollywood Cemetery - Richmond. The beautiful, serene landscape makes this cemetery one of Richmond's most visited places. An astounding 90 foot stone pyramid memorializes the more than 18,000 Confederate soldiers who were laid to rest here. Among famous Americans buried here are Presidents John Tyler and James Monroe as well as Confederate President Jefferson Davis and Gen. J.E.B. Stuart.
Richmond National Battlefield Park - Metro Richmond. As the seat of Confederate government Richmond was a special target of Union military strategy, and some of the fiercest battles of the war were fought around the city. The Visitor Center houses engaging exhibits and artifacts while protected and interpreted battlefields such as Cold Harbor and Malvern Hill let visitors walk where soldiers fought.
Robert Russa Moton Museum - Farmville. R.R. Moton High School was the site of a walkout by African American students in 1951 to protest the separate but very unequal conditions in which they were forced to study. The resulting legal action became part of the landmark Brown vs. Board of Education Supreme Court decision. Exhibits housed in the school building tell the story of the struggles of a community to overcome historical segregation.
Virginia State Capitol - Richmond. Virginia's history helped establish the United States government that we know today. The Capitol was designed by Thomas Jefferson and first occupied in 1788 by Virginia's General Assembly, America's oldest English-speaking legislature. The Bill of Rights was ratified here. Guided tours begin at the new underground Visitor Center.
Arlington National Cemetery - Arlington. Veterans of every American war from the Revolution to the country's most recent conflicts are buried at Arlington. Among the more than 260,000 dead are three unidentified service members, buried at the Tomb of the Unknowns, and John F. Kennedy, whose gravesite is marked by an eternal flame.
Architectural Walking Tours - Statewide. So many of Virginia's cities and towns preserve the architecture of historic commercial and residential districts. Stop by a welcome center and ask for walking tour brochures. Ornate downtown facades and dramatic interiors are complemented by the grace and charm of Victorian, Queen Anne and Gothic Revival homes. Surprises abound when looking up from the sidewalk.
Waterford - Founded in 1733, the entire village of Waterford is a National Historic Landmark. Many of its buildings still in use predate 1840. Self-guided walking tours indicate historic homes and storefronts and cottages. The Waterford Market has light refreshments as well as crafts made by local artisans.
National Museum of the Marine Corps - Triangle. The heroic story of the United States Marine Corps is told here through interactive displays, videos, realistic environments and priceless artifacts. Retired Marine volunteers are on hand to welcome visitors and provide personal stories of their service.
Abingdon Historic District - The town of Abingdon is located in Washington County in the Blue Ridge Highlands region of Virginia. It was named after the ancestral home of Martha Washington, and is a Virginia Historic Landmark. The 20-square block Historic District includes historic sites, cultural activities and museums. Abingdon is also one of the towns along The Crooked Road: Virginia's Heritage Music Trail.
Fort Monroe/Casemate Museum - Hampton. Fort Monroe was originally completed in 1834 and has served as an army base since then. During the Civil War escaped slaves flocked to the fort for protection. After the collapse of the Confederacy, Jefferson Davis was confined as a prisoner in a damp cell within the casemate. The Casemate Museum tells the story of the fort and its historic occupants within the arched masonry now more than 150 years old.
Lexington's historic campuses and museums - Lexington is a small town dream. Located in the southern end of the Shenandoah Valley, Lexington is home to Washington and Lee University and the Virginia Military Institute. Both campuses are littered with historic buildings and statues - and each has compelling museums. The VMI Museum tells the story of the institute dating back to 1839. Lee Chapel and Museum houses the final resting place of Robert E. Lee, president of the college following the Civil War.
Steven F. Udvar-Hazy Center - Dulles. This Smithsonian Air and Space Museum facility includes the space shuttle Enterprise, Gemini VII space capsule and Boeing B-29 Enola Gay among its incredible collection of hundreds of air and space craft, missiles and equipment. Simulators and theaters provide breathtaking experiences without leaving the ground. Though there is a fee to park, admission to this magnificent facility is free.
Harry W. Meador Coal Museum - Big Stone Gap. Mining equipment, tools, office equipment, coal company items and a small dentist office are part of this museum in the heart of Virginia's coal mining region. Coal mining was and is a critical part of the economy of Southwest Virginia and is reflected in the museum displays.
Inspiring Drives - on a dime:

Virginia's Parkways - Statewide. Of Virginia's legendary scenic parkways, the Blue Ridge Parkway is the longest and best-known and offers hiking, picnicking and scenic overlooks. Historic Mabry Mill is one of America's most photographed roadside attractions. The 23-mile Colonial Parkway connects Williamsburg, Yorktown and Jamestown while the George Washington Memorial Parkway follows the Southern bank of the Potomac River in the Metro DC area. Each is a National Scenic Byway and an important greenway.
Burke's Garden - Tazewell County. Sometimes called "God's Thumbprint," this mountain-ringed bowl is ten miles in diameter and contains some of the Commonwealth's most lush vegetation. Millions of flowers bloom in the spring and in the fall it is a heaven of colors.
Take in the Arts - free of charge:

University of Virginia Art Museum - Charlottesville. Art from around the world dating from ancient times to the present day is on display at the University's fine art museum. The galleries exhibit American and European painting and sculpture of the 15th - 19th centuries including art from the "Age of Thomas Jefferson" (1775- 1825), art from the ancient Mediterranean, Asian art, and 20th century art.
Virginia Museum of Fine Arts - Richmond. More than 20,000 works of art from nearly every major world culture are part of this expanding facility. Art Nouveau, Art Deco and American Modern and Contemporary are leading components of the collection. Don't miss the Faberge eggs!
Danville Museum of Fine Arts and History - Housed in the Sutherlin Mansion on Danville's "Millionaires Row" the museum now houses art exhibits and historical displays. After fleeing Richmond at the end of the Civil War, Confederate president Jefferson Davis occupied the house until learning of Lee's surrender. Accordingly, Danville is called the "Last Capital of the Confederacy."
Rex Theater - Galax. The sounds of classic Virginia bluegrass, gospel and old time music echo through the streets of Galax on Friday nights when top performers take the stage at the 400-seat Rex Theater. Admission is free, but get there early for a good seat.
Mt.PonyTheater - Culpeper. Home to more than one million film, television and video recordings - some dating to the 1890s - the National Audio/Visual Conservation Center's 200-seat theater shows classic films in a state-of-the-art setting. The theater hosts three shows per week. Free, but reservations are strongly recommended.
The Prizery - South Boston. Housed in a 36,000-square-foot historic tobacco warehouse building, The Prizery includes permanent and temporary exhibits of art and history. Galleries showcase the work of local and international talent. South Boston's Welcome Center is also on site, providing information on local sites and attractions.
Something Completely Different - for free:

Westmoreland Berry Farm and Orchard - Oak Grove. Come to the farm to watch their famous Goat Walk or explore the trails of the adjacent Voorhies Nature Preserve, home to 93 documented species of birds.
McCormick Observatory - Charlottesville. Escape to the galaxy on a budget every first and third Friday nights of the month. Visitors can take part in a telescope viewing, see a slideshow and tour the museum.
Foamhenge - Natural Bridge. Mark Cline of the Enchanted Castle Studios has unveiled a full size scale replica of Stonehenge on the property of the Natural Bridge of Virginia made entirely of foam. "Foamhenge at Natural Bridge" is painted to resemble the real Stonehenge. Be sure to bring a camera to try fool your friends back home!
Luray Singing Tower - Luray. Recognized as one of the country's major carillons, the tower contains 47 bells. The Luray Singing Tower, officially known as the Belle Brown Northcott Memorial, was erected in 1937 in memory of Colonel T.C. Northcott's wife. The carillon is situated in a park opposite Luray Caverns, the largest caverns in the East.
Rt.11 Potato Chip Factory - Mt. Jackson. Route 11 is famous for its delicious, old style, kettle-cooked potato chips with all natural seasonings. Fry-viewing opportunities abound as do chips for sampling and purchasing.
Mt. Trashmore Park - Virginia Beach. World-renowned Mount Trashmore Park was created by compacting layers of solid waste and clean soil. Facilities include picnic shelters, playground areas, basketball court, volleyball areas, walking trails, plus an extensive street course Skate Park which includes a seven-foot deep bowl and a massive 13.5 ft tall vertical ramp.
Lays Hardware Jam Sessions - Coeburn. Every Thursday evening enjoy free jam sessions as local musicians play in an informal, family-friendly atmosphere.
Museums and other attractions that provide free admission often depend on donations for continued operation. Keep an eye out for the chance to contribute to those worthy endeavors.
For more information on all there is to see and do in Virginia, visit http://www.Virginia.org or call toll-free 1-800-932-5827 for a free Virginia Is for Lovers - Live Passionately travel guide.
NR643
###