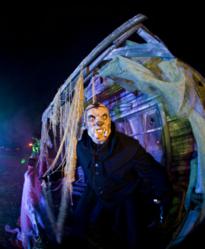 From ghostly tours in haunted plantations and moonlit graveyards trails to spirited war-time love stories and spine-chilling tales...
Richmond, Va. (PRWEB) October 04, 2011
This October, Virginia offers travelers and families a number of ghostly events and packages to celebrate the magic and mystery of Halloween. With over 400 years of history spanning from Colonial America to the Civil War the Commonwealth is home to destinations rumored to be rife with supernatural elements. From ghostly tours in haunted plantations and moonlit graveyards trails to spirited war-time love stories and spine-chilling tales visitors are guaranteed to be spooked in Virginia. For those looking for a less eerie Halloween, an abundance of familyfriendly festivals, pumpkin patches, hayrides, and concerts are sure to keep travelers in the Halloween spirit.
Halloween Haunt at Kings Dominion- Doswell
Beginning September 30, as dusk settles over cheery grounds of Kings Dominion the atmos-fear will change as shrieks and screams signal that Haunt is coming to life. Haunt will take place on Friday nights, Saturdays and Sundays through October 30. With nine haunted mazes, five spooky shows, five scare zones and all the thrilling rides and attractions, the Haunt at Kings Dominion is the largest Halloween themed event in the Mid-Atlantic. Families and children will enjoy Howl-O-Fest, age-appropriate, non-scary Halloween fun during daylight hours on Saturdays and Sundays. Haunt is free with general park admission or with a Kings Dominion Season Pass. Admission Fees range from $19.99 to $57.99. Visit kingsdominion.com or call (804) 876-5000 for more information.
Howl-O-Scream- Williamsburg
Busch Gardens' Howl-O-Scream is rising to a whole new horrifying level in 2011 in honor of its 13th anniversary. Brave guests who dare to enter better beware that the scare is everywhere with new bone-chilling mazes, terrifying shows and gruesome creatures lurking around the park. Howl-O-Scream opens Sept. 23 and continues every Friday, Saturday and Sunday through Oct. 30. Howl-O-Scream may be too intense for young children. Parental discretion is advised. Admission Fees range from $63.99-$102.80 for adults and 53.99-$86.00 for children ages 6-17. For more information, visit howloscream.com or call (800) 343-7946.
Pumpkins in the Park - Haunted Trail Hayride– Wilderness Road State Park, Ewing
More than 2,600 brave souls attended this spooky event last year. Don't miss out on two exciting nights of fun and fright highlighted by the wildly popular Haunted Trail Hayride. The 30-minute, spine-tingling journey features dramatic and spooky scenes, along with surprises sure to elicit screams of delight. Enjoy pumpkin painting, face painting, music and storytelling. On Saturday, costume contests and a community-based Trunk-or-Treat, where children enjoy an old-fashioned Halloween in a safe environment. This event is sponsored by the park and the Lee County Tourism Committee. Dates are October 28 & 29, 2011 and the cost of admission is $5 per car. Call (276) 445-3065 or visit dcr.virginia.gov/state_parks/wil.shtml for information.
Haunts of Richmond Ghost Tours– Richmond
From August 4, 2011 to November 3, 2011 walk among the shadow dwellers on a Haunts of Richmond Ghost Tour. Choose from among Shadows of Shockoe, Haunted Capitol Hill or Church Hill Chillers tours. Your Ghost Host will guide you on a fascinating exploration of Richmond's oldest and most haunted neighborhoods. Hear tales of trauma and tragedy at or near the sites where paranormal activity has been reported. Tours run about 75 minutes, involve a mildly strenuous walk and are appropriate for all ages. Public tours are at 9pm through November 5th. Reservations are required. Private tours & group discounts are available for six or more. Additional tours will be added in October. Visit hauntsofrichmond.com for the schedule and to purchase tickets. Admission fees are $13 for adults and $10 for children in advance. At the door admission is $15 and $12 for adults and children respectively.
Halloween Spook-tacular at Wintergreen Resort– Wintergreen
Visit Wintergreen Resort for a weekend of family-friendly Halloween events including pumpkin carving, mask making, resort trick-or-treating and storytelling. Wintergreen Resort is an 11,000-acre, four-season resort located in the Blue Ridge Mountains southwest of Charlottesville. This beautiful hideaway is the ultimate vacation and conference spot, with more than 300 accommodations; 45 holes of golf; snow skiing, snowboarding and snowtubing; an awardwinning tennis program; a full-service spa; meeting and event space; and a variety of enticing dining options. The weekend of spooks begins October 28, 2011. For more information and prices call (434) 325-8235 or visit wintergreenresort.com.
Ghostly Tales and Graveyard Trails– Shirley Plantation, Charles City County
Celebrate the bewitching spirit of Halloween with ghostly stories of "Aunt Pratt," the legendary ghost of Shirley Plantation, Virginia's first plantation. From October 23-31, 2011, guided house tours will include the tales of "Aunt Pratt." Make sure you take a tour of the Great House at Shirley before the cemetery walk so you can see her portrait. On October 29, 2011 at 5pm, "Aunt Pratt" will escort visitors to the Shirley Graveyard for a twilight tour. Mourning customs, ghost stories and more will be shared with visitors during the walk along the river to the cemetery. This is the only time of the year when the family graveyard is available for viewing and the only scheduled appearance of "Aunt Pratt" from the spellbound regions. Regular admission is $11 for adults and $7.50 for youth (6-18), with discounts for AAA members, seniors and military.
Fright Nights 2011– Ashburn
Fright Night dares you to experience a 30-minute trail through the pitch black woods of Ashburn that will leave you with a scare you will never forget. Fright Nights begin on October 15, 2011, with a special ticket rate of $10 for opening weekend. After that tickets are $20 with group rates available. For more information visit facebook.com/group.php?gid=42794616472.
Ghosts of Fredericksburg Tours– Fredericksburg
With a past that stretches back to pre-Colonial times and a Civil War legacy of four major battles that claimed over 100,000 casualties it is no wonder that Fredericksburg has been called the most haunted city, per capita, in the United States. Combining history with mysterious tales of the still lurking dead, costumed guides conduct 90 minute, comfortably-paced, candlelight walking tours filling the evenings with folklore and ghostly tales. Tours depart on select Saturdays at 8:00pm in downtown Fredericksburg. Admission Fees are $11.00 per person. Visit ghostsoffredericksburg.com for the complete 2011 tour schedule. For more information call (540) 710-3002 or e-mail info(at)ghostsoffredericksburg(dot)com
Haunted Hunt Club Farm & Halloween Fest- Virginia Beach
Virginia Beach's original Haunted Hayride, opens with major renovations for the upcoming Halloween season! If you can scream you may make it through the Haunted Hayride, the Village of the Dead, & the Field of Screams. The farm opens September 30, 2011. Admission prices range from $20-$25 with group rates available. Visit huntclubfarm.com for more information.
Fort Monroe Haunted Tours- Hampton
From October 26-29, 2011, follow the footsteps of past centuries by attending Fort Monroe Haunted Tours 2011, presented by the Hampton History Museum. Join Hampton City Historian, author, and television personality John V. Quarstein as he guides each group along the paths of Historic Fortress Monroe and tells spooky tales of spirits rumored to haunt America's largest stone fort. Call (757) 788-3151 for more information.
Haunted Nightmares- Winchester
Haunted Nightmares is an intense, heart pounding experience, and not for the faint of heart. Leave your reality behind and enter a world where nothing is quite what it seems. Experience areas of total darkness, highly detailed sets and the latest special effects available to the haunt industry. The haunting begins October 1, 2011. Visit http://www.hauntednightmares.net for more information.
To find out more about these and other spooktacular Halloween events, visit http://www.Virginia.org
or call 1-800-VISITVA for a free Virginia Is For Lovers Travel Guide.
# # #