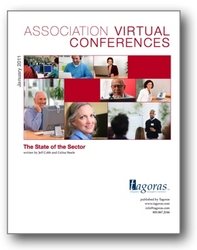 We're clearly still in the early adoption phase of virtual conferences, but we anticipate that associations will cross the chasm in 2011.
Carrboro, NC (PRWEB) January 20, 2011
Tagoras today released Association Virtual Conferences: State of the Sector, a comprehensive report on the adoption of virtual conferences by trade and professional associations as an approach to educational events and meetings. The report will be discussed in a free Webinar today at 1:00 PM ET. Details and registration information for the Webinar are available at https://www3.gotomeeting.com/register/338934030
"We're seeing an initial wave of organizations embracing virtual platforms to create full conference and tradeshow experiences. And it looks like that wave could really swell in the coming year" said Tagoras managing director Jeff Cobb. "We're clearly still in the early adoption phase of virtual conferences, but we anticipate that associations will cross the chasm in 2011."
As part of its research efforts, Tagoras conducted a sector-wide survey focused on association use of educational technologies. Out of the 349 nonprofit membership organizations that participated in the survey, only a modest number – 8.59 percent – indicated having already offered a virtual conference. But usage of this format appears poised to grow significantly: among a subset of 257 organizations already using some form of computer-based education, 11.7 percent have offered a virtual conference and another 23.7 percent plan to within 12 months, bringing total adoption among the surveyed group to more than a third.
Cobb notes that the trend towards virtual conferences is part of a broader move towards virtual events that is already sweeping the corporate world. "Major corporations like Cisco and IBM are investing heavily in virtual platforms for delivering employee, channel partner, and customer education," said Cobb. "Associations have been somewhat more cautious than their corporate counterparts in embracing and implementing the new technologies, but meetings and education are too fundamental a component of what associations provide for virtual options not to have a big impact." "Every organization that reported already holding a virtual conference says it will do so again," Cobb added.
Associations that have made the leap to virtual are attracting solid attendance and scoring high marks with their event attendees, according to the survey and interviews Tagoras conducted with 17 organizations. More than 70 percent of organizations that have held a virtual conference found that registrations either met or exceeded expectations. Survey respondents reported an average attendance rate of 62.5 percent of registrations. Among respondents who offered a place-based event comparable to their virtual conference, 82.4 percent indicated "Attendees gave the same or very similar evaluation scores for the virtual conference" while 11.8 percent indicated "Attendees gave higher evaluation scores for the virtual conference."
Full information about Association Virtual Conferences: State of the Sector can be found at http://www.tagoras.com/catalog/virtual-conferences/
Organizations interested in booking Jeff Cobb to speak on how emerging technologies are impacting education and business can find out more about his speaking and contact him at http://www.jeffthomascobb.com/speaking/.
Tagoras provides research and consulting to help organizations maximize engagement, impact, and revenue from their educational offerings. Its clients have included the National Association of Corporate Directors, the International City/County Managers Association, the Medical Group Management Association, the National Institute of Governmental Purchasing, Nurses Improving Care for Healthsystem Elders (NICHE), Booke Seminars (a Division of Aon), Advanced Energy, and CASTLE Worldwide.
Jeff Cobb is an author, speaker, and advisor to organizations internationally on emerging technology trends and their impact on education, business, and society in general. He is co-author of ShiftEd: A Call to Action for Transforming K-12 Education to be published by Corwin in spring 2011.
# # #