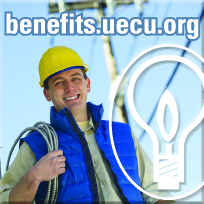 Many businesses are very happy to spread the word to customers in the shale industry and to family and friends in energy and utility careers, who would benefit from UECU membership.
Wyomissing, PA (PRWEB) March 12, 2013
Utilities Employees Credit Union (UECU) recently began new marketing strategies to enhance company recognition and business partnerships in Pennsylvania's Marcellus Shale region. The virtual nationwide credit union's efforts are designed to build regional membership and awareness about UECU's free financial solutions tailored to energy workers and their families.
UECU's Business Development representatives recently spent several days in shale country, building partner relationships with local businesses that cater to the industry and attending the Marcellus Shale Southpointe Tradeshow in Washington County, Pennsylvania.
"We had the opportunity through the tradeshow to hold discussions with industry attendees who were receptive to the services UECU has to offer – and we hope to also further develop relationships with other vendors we met who serve the shale industry," says Erica Kunkel, Business Development Specialist at UECU.
UECU's representatives also traveled the region to provide materials about UECU membership benefits and special financial offers for the shale industry, to local merchants, energy companies, and training programs, for distribution to the shale workers and trainees with whom they regularly interact. The group reported a successful first visit to the area.
"There are some regional hotels and businesses that reported 60% of their income came from shale industry workers last year – they serve a great deal of traveling workers who they recognize would be well-served by a virtual credit union," says Janene Naugle, Business Development Representative for UECU. "Many businesses were very happy to spread the word to customers in the shale industry and to family and friends in energy and utility careers, who would benefit from UECU membership."
Marcellus Shale and other energy and related-industry workers who take advantage of free membership in Energy People Connect, a professional association for energy professionals and trainees, are eligible for UECU membership. Energy industry professionals and their family members can also join Utilities Employees Credit Union as the employees of a company offering UECU membership as an employment benefit. Like many professionals in the energy and utility services sector, Marcellus Shale workers are often dispersed among rural locations, which may be distant from their hometowns – making UECU, a virtual credit union with 24/7 nationwide access, a logical strategy to serve their financial needs.
UECU is a full-service financial institution whose member-owners receive the credit union's co-operative profits in the form of financial rewards, lower fees, and superior savings and lending rates. UECU also offers voluntary financial benefits to utility, energy, and related-industry companies and associations, which they can extend to employees and their family members to promote financial wellness, reduce employer health care costs, and enhance worker productivity. Some companies are offering financial wellness programs as a stand-alone benefit or as part of their employee assistance program.
For more information on Utilities Employees Credit Union, visit http://www.uecu.org. Companies and organizations in the utility, energy, or related industries can obtain information on offering no-cost employee financial benefits from UECU, by visiting benefits.uecu.org or calling 800-288-6423, extension 6034.
About Utilities Employees Credit Union:
Utilities Employees Credit Union is a nationwide, virtual credit union providing financial services to utility and energy workers and their families since 1934. Its membership includes the employees of 600 companies and members of Energy People Connect, an association for individuals currently employed or pursuing employment in the energy industry. UECU is among the two percent of U.S. credit unions to receive an A "Excellent" Weiss Rating for financial soundness and one of the few financial institutions to reward its members with a year-end bonus dividend, which last year totaled nearly $1 million.
###