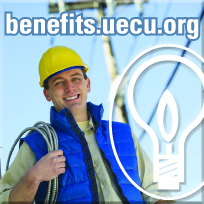 Health and medical expenses are a significant part of our members' finances and we want to give them the very best tools to save effectively and easily access their health funds.
Wyomissing, PA (PRWEB) March 26, 2013
10562888Utilities Employees Credit Union (UECU), a nationwide provider of financial wellness benefits to utility and energy industry employees and their families, has enhanced its Health Savings Account (HSA) product to serve another set of its members' wellness needs. The credit union recently added new convenient purchasing and cash access options for members who use a Health Savings Account to fulfill their qualified health expenses.
"Everything we do is to improve the financial well-being of the individuals and families in our membership – and as a result, improve employee productivity for the utility and energy industry," says Jane Kennedy, Business Development Manager for UECU. "Health and medical expenses are a significant part of our members' finances and we want to give them the very best tools to save effectively and easily access their health funds."
UECU members earn interest on their HSA savings funds and can choose from several ways to contribute to their account, including payroll deduction, check deposits, electronic fund transfers, and employer deposits if their company contributes to worker health accounts. Now, UECU members will also be able to easily obtain ATM cash or directly make purchases using UECU's free Advantages VISA® Check Card™, which offers them rewards on signature-based, qualified health purchases. Like other Health Savings Accounts, UECU's account is for individuals with a high-deductible health care plan that meets federal guidelines required for receiving HSA benefits including tax-deductible contributions and tax-free distributions for qualified medical expenses.
In recent years, UECU has increasingly seen its financial services intersect with the needs of workers in America's utility and energy industry. During a period of extended economic challenges for many U.S. families, many workers are showing signs of financial distress that follow them while they're on the job. Worker health and benefits studies such as the annual MetLife Employee Benefits Study report lost productivity, employee absences, and increased health care costs related to financial stress.
UECU provides free nationwide access to financial products and services, credit counseling, online budgeting and personal finance tools, and financial education, to utility and energy workers. The credit union offers additional employee promotions, benefits support, and financial education services to companies that offer membership as an employee benefit. Some companies offer UECU membership as a stand-alone benefit, while others incorporate it as part of a company financial wellness program or employee assistance program.
To obtain information on providing free employee financial benefits through Utilities Employees Credit Union, companies in the utility, energy, or related industries can visit benefits.uecu.org or call 800-288-6423, extension 6034.
About Utilities Employees Credit Union:
Utilities Employees Credit Union is a nationwide, virtual credit union providing financial services to energy and utility workers and their families since 1934. Its membership includes the employees of 600 companies and members of Energy People Connect, an association for individuals currently employed or pursuing employment in the energy industry. UECU is among the two percent of U.S. credit unions to receive an A "Excellent" Weiss Rating for financial soundness and one of the few financial institutions to reward its members with a year-end bonus dividend, which last year totaled nearly $1 million.
###