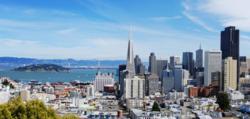 It is possible for a law firm to have a professional business presence in a new city in one day and at less than the cost of one typical billable hour per month.
San Francisco, CA (PRWEB) September 18, 2012
Expanding into new markets can be a great way for a law firm to grow, but it can be a daunting task because of market uncertainties, setup and operational challenges, organizational/management issues, and costs. A virtual office, though, can greatly facilitate the process. It is possible for a law firm to have a professional business presence in a new city in one day and at less than the cost of one typical billable hour per month. The law firm can then immediately market and generate new client business through its attorney(s) licensed to practice in that state.
Penetrating new markets for legal business has a variety of benefits. Whether the firm is a solo, small or large law practice, a new market provides client acquisition and business development opportunities. Having virtual or branch offices in other markets enhances the perception to clients that the business is well-established, growing, and has broader and deeper access to resources. Branch offices can also attract talent or supplement specialties in practice areas.
A market expansion, however, usually takes a lot of upfront planning and a large commitment of resources to find the right office space, build out that space and infrastructure, and hire the right staff. The process may distract senior partners from their important work and is very time-consuming. Finding and setting up a new office could easily become an 8-month commitment: 3 months to find a suitable office space, 1 month to negotiate the lease, 3 months for build out, and 1 month to set up the communications/technology infrastructure.
Onerous Costs of New Office Set-up:
Financial challenges present another obstacle to new market growth. In downtown San Francisco, for example, it costs at least $70 per square foot for design and architectural fees, tenant improvements, and technology infrastructure. There are also security deposits, lease review fees, furniture, fixtures, copiers, and other costs that can add up to a very hefty bill. Running an office requires monthly lease payments, insurance, support staff payroll, equipment leases, phone bills, and other vendor payments. Currently, office rent in downtown San Francisco for a Class A building runs at least in the high $40s per square foot.
In contrast, a virtual office can be set up almost immediately and at a very low monthly cost. This strategy eliminates a large portion of the upfront costs and lengthy process of establishing a new office. "A virtual office provides an instant professional business presence so the firm can market its services, acquire and service new clients, and generate revenue right away, all for a tiny fraction of the cost of a traditional office," says Wilson Tandiono, President and CEO of Intelligent Office San Francisco. It also gives the firm the opportunity to test out a new market without committing too many resources initially.
Exactly how does a virtual office help a law firm accomplish such a rapid and economical market entry? Here are five key ways.
1) Local Business Presence
A virtual office provides a prestigious business address and local phone number for the firm to establish a local presence. The firm can use this address and phone number on its website, business cards, marketing materials, and online directories.
2) Office Facilities
A virtual office provides shared office facilities like meeting rooms, office suites, reception area, business amenities, mail sorting, package handling, and kitchenette. Clients are greeted courteously by staff members and can meet attorneys in a professional, private office environment. An attorney can conduct client meetings, mediations, depositions, or conference calls in a variety of rooms that are rented by the hour. Document handling services encompass printing, copying, scanning, faxing, notarizing, mailing, storage, and shredding. Mail services include a private mailbox, the ability to drop off and pick up client documents, mail forwarding, scanning, and package notification. Shared office facilities provide a cost advantage over traditional offices because of the pooling of resources and economies of scale.
3) Connectivity and Support Staff
A virtual receptionist can answer phone calls with a personalized greeting and direct callers to any attorney. This is a great way to provide connectivity without the firm having to hire a full-time receptionist. Virtual receptionists can also be trained to perform other more specialized duties like answering questions about practice areas, consultation process and fees, scheduling appointments, and filling out client intake forms. Full day-time coverage is provided without the interruptions of sick time, vacation, and breaks. The law firm does not need to be burdened by administrative problems, retraining, hiring, termination, and turnover costs.
4) Flexible Workspace
Attorneys can initially work in rentable office suites at the virtual office location. While business at the new firm's location ramps up, the attorneys may not need to work full-time in the new location. They may have the option of working from home or at the firm's other office if they only need to be at the new office to meet clients. Virtual receptionists can answer and transfer calls so callers can seamlessly reach the attorneys, no matter where they are. Virtual offices typically have office suites that are available to rent by the hour, day, or month, depending on the attorney's needs. When the law firm has gained enough business in the new city to warrant a full-time office suite, it may be able to enter into a long-term lease with the facility.
5) Customized, Scalable Services
Lastly, virtual offices typically have à la carte, monthly plans that are customized to a law firm's requirements. This flexibility provides an economical way of scaling with the firm's needs as it grows in the new market. The firm pays only for what it uses so a lot of the excess overhead of a traditional office is eliminated. While the firm is not paying for the extra room for growth or other services that it currently does not use, it has the assurance that the virtual office can accommodate its expanding needs in the future.
In summary, virtual offices are a very effective strategy for law firms to establish a new market presence. They allow law firm of any size to be productive quickly without the large upfront costs and lead times that come with building out a traditional office space.
Intelligent Office's executive office suite, virtual office, conference room rental, and virtual receptionist solutions can provide support for entrepreneurs, mobile executives, professional services firms, independent contractors, satellite offices, and small and home-based businesses. Virtual office services can help businesses save on overhead costs and gain flexibility while projecting a professional presence. Visit Intelligent Office's Virtual Office San Francisco location at 100 Pine St, or call 415-745-3300 for more information.
About Intelligent Office:
Intelligent Office is the leading virtual office service provider for mobile executives and small businesses in North America. The company is headquartered in Boulder, Colo., and has over 50 locations in North America. Intelligent Office helps clients grow their businesses and work smarter by combining professional staffing with the physical and technological infrastructure of a virtual office. For more information on services, go to http://www.intelligentoffice.com/locations/california/san-francisco/san-francisco.aspx.