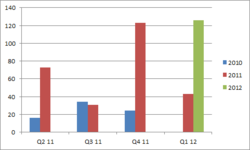 We are getting calls daily from Organizations looking to Hybrid Their Event
Jamestown, NY (PRWEB) March 15, 2012
Digitell is reporting a 300% growth in Hybrid Events comparing April, 2010-March, 2011 vs April, 2011-March, 2012. When you look at the last six months of data, that growth jumps to 374%. A Hybrid Event is defined as a Live Broadcast from a Live Physical Event.
"This is exciting news for those of us in the Hybrid Event business", says Jim Parker, president of Digitell. "We are getting calls daily from Organizations looking to add a Hybrid component to their meeting."
And why not. The data is supporting that adding a Hybrid Component can provide significant outreach for those associations broadcasting sessions for free and provide a positive cash flow for those associations charging the user.
Digitell reports that most of their clients who are charging the end user are charging anywhere from 80% to 100% of the physical registration cost and attracting 50 - 250 virtual users. Clients offering a live stream for free (paid for by a sponsor or by the association) are attracting anywhere from 500 - 3,000 registrants.
On top of that there appears to be little to no cannibalization of Live meeting attendance. In fact, many clients have seen an increased attendance as a result of the added exposure of their prior Hybrid Events.
With their newly launched SYNDICAST model, Digitell provides a valuable live streaming or On-Demand component to the show exhibitors and sponsors, increasing their ROI and making it easy to deliver valuable education to their sales team, customers and/or prospects.