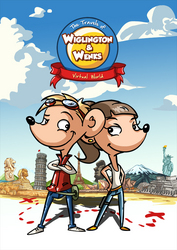 Singapore (PRWEB) November 2, 2009
The Travels of Wiglington and Wenks Virtual World has been creating waves on the internet, attracting tens of thousands of fans from over 130 countries worldwide despite being some months away from launch. Today, it opens its doors for Beta.
The Travels of Wiglington and Wenks Virtual World transports players on a breathtaking tour of today's world, as well as back through the past into history and forward into the future.
Based on a popular children's story book series by John Bittleston, the virtual world for kids aged 7 to 14 will deliver an experience in which players get to travel to more than a hundred locations around the world, learn about geography, history, culture, countries, inventions and the environment, meet famous people from the past, solve puzzles, explore their creativity, play tons of enriching games and have terrific fun all at the same time.
The Travels of Wiglington and Wenks offers a rich storyline with a fascinating cast of characters. The underlying quest allows players to meet and interact with famous people from the past, discovering historical personalities, items, events and inventions in the process.
MediaFreaks - an award winning new media and 3d animation studio from Singapore whose business activities span animation services, character licensing and the creation of original mobile and internet content - has designed the virtual world to challenge and nurture children's knowledge and quick thinking.
It has also structured an environment in which children can explore freely and safely while being encouraged to extend their natural creative talents through activities like decorating their own islands and building houses from different countries. In the Beta, kids will only be able to explore the Wiglington Town, but it will give them a good idea of what to expect when the virtual world launches in full force.
Responsible for creating the virtual world and spearheading the project, Chief Executive Producer Aldric Chang says, "We are very encouraged to see children react so positively to The Travels of Wiglington and Wenks. Several fan sites have been set up already and the internet is buzzing with news of Wiglington and Wenks every single day. We are working hard to make The Travels of Wiglington and Wenks the best virtual world ever for kids."
Commenting on the joint venture, Author John Bittleston said, "I wrote The Travels of Wiglington and Wenks to ensure that learning about and discovering the world was enormous fun for children and I saw the internet as the ideal medium for translating the concept into today's modern media in an exciting and challenging way. With 187 books potentially still to be written there is no shortage of wonderful treasure and thrilling adventure to look forward to."
In October, a series of free hidden object games based on The Travels of Wiglington and Wenks was also launched as a curtain raiser to the launch of the virtual world. This, together with the Beta, will allow the growing fan base to sample the joys of the virtual world for when it launches on Christmas Eve this year.
Fans can pre-register at http://www.WiglingtonandWenks.com for the launch of the virtual world and play the hidden object games at http://www.CartosMagicMaps.com.
About Wiglington and Wenks Worldwide
Wiglington and Wenks Worldwide Pte Ltd is the parent company of the joint venture between John Bittleston, Eliza Quek and MediaFreaks. John Bittleston is Chairman and CEO.
About Mediafreaks
Mediafreaks is an award winning Singapore-based tech new media entertainment and 3d animation studio focusing on interactive digital media and animation products and services, with multiple monetizing models in the form of subscriptions, micro transactions, advertising, licensing and sales.
About John Bittleston
John Bittleston, is a British business man whose career spans Marketing, Advertising, Public Relations, International Management, Author, Columnist, as well as Business, Career and Personal Mentor to over 4,000 Mentees through Terrific Mentors Pte Ltd.
About Aldric Chang
Aldric Chang is the Founding Managing Director of the Mediafreaks group and is best described as a creative entrepreneur with business interests in animation, cartoons, interactive digital media, internet marketing, web 2.0 and music. He shares tips on how to make money online on his blog.
###